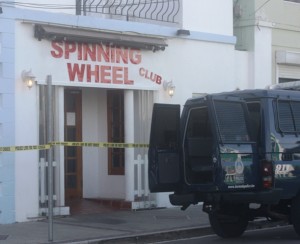 [Updated] [Bernews has spoken with eyewitnesses to the shooting murder that occurred just after midnight this morning [Aug 9]. They tell us that shortly after midnight a small light-coloured car with its licence plate appearing to be blacked out drove up to Spinning Wheel, and two men hopped out.
They said that one appeared to be wearing some form of a mask, the other some form of coat which appeared to be a raincoat. They rushed in the club [it appears a third man was behind the wheel], fired, and ran back out and drove off at top speed. We are told that it all happened extremely fast, and that people did try and stop the car, as well as throwing bottles at it. We were told club goers rushed from the facility, and the scene became somewhat chaotic.
We were told that bystanders bundled the victim into a car and rushed him to King Edward Memorial Hospital, where he was pronounced dead approximately 30 minutes later. We were also told that bystanders heard what could have been over 10 shots fired, and they "knew the man was dead from the amount of shots fired." They told us the victim appeared to have been shot multiple times, and was severely wounded at the scene.
Some on the scene speculate that the 47-year-old victim, whom has not officially been named yet but was well known to frequent the area, may have been targeted by the shooters to "make a name for themselves," as the victim is so widely known in some segments of the community. They also allege the car involved is "known." We asked whether they thought the shooting that took place 30 mins prior was related; the people were spoke with seemed to think not.
Update August 15th: We spoke with a good friend of Troy "Yankee" Rawlins that was with him that night who provided further details. He said he, Mr Rawlins and a few others were at the Swinging Doors Bar having a "couple of drinks", when the bar ran out of Chivas [a drink Mr Rawlins was said to favour] so they decided to walk down to Spinning Wheel. Upon arriving at Spinning Wheel, two men carrying guns burst in and fired at Mr Rawlins while he was in the entrance. We were told many people ran away at top speed, and others stood there appearing to be in shock. Approximately four men lifted Mr Rawlins, who was slumped in the entrance, and bundled him into a private car and sped to King Edward Memorial.
The Police released an official statement in relation to the murder saying:
Around 12:30am on Monday, Police responded to a confirmed firearm incident at The Spinning Wheel nightclub on Court Street in Pembroke. The victim, a 47 year old Pembroke man, was shot multiple times inside the club. He was taken to King Edward VII Memorial Hospital where he succumbed to his injuries a short time later.

No further information will be given until next of kin have been notified. The Bermuda Police Service extends condolences to the family & friends of the deceased.

There were people in The Spinning Wheel nightclub at the time of the incident and some of those individuals have come forward to assist officers with their inquiries. Investigators are also analyzing CCTV footage of the area. The scene has been cordoned off and is being forensically examined for evidence. An active investigation into this matter is underway. Any witnesses or anyone with any information is encouraged to contact the Serious Crime Unit on 299-8115 or the independent confidential Crime Stoppers Bermuda hotline on 800-8477.
This is the seventh murder of 2010 following the murders of Perry Puckerin, James Lawes, Kimwandae Walker, George Lynch, Dekimo Martin and Freddy Maybury.
Bernews extends our sincere sympathies to the victim's children, family, and friends. Anyone with any information is urged to call the Serious Crime Unit on 299-8115, or the independent 24 hour confidential Crime Stoppers Bermuda hotline on 800-8477, or send an anonymous tip via the Crime Stoppers Bermuda website crimestoppers.bm.
Update 3:08pm: Details released at the Police press conference this afternoon confirms most this story; 2 shooters, arriving in a light-coloured car, Mr Rawlins taken to hospital via a private car, multiple gunshot wounds etc.
[Please note except for the specific Police quote, all information provided is unofficial and unconfirmed, and should be taken as such]
Read More About