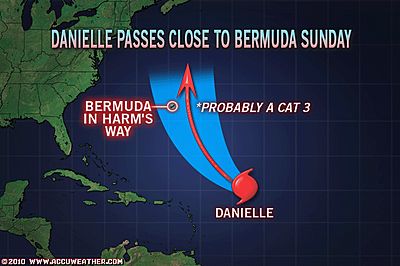 In addition to Hurricane Danielle, a tropical storm is forming in the Atlantic and both are expected to pass by Bermuda. 
According to Accuweather "Danielle could pass nearby to the east of Bermuda as a Category 3 hurricane, while Tropical Storm Earl could pass over or nearby to the west of the islands."
They continue on to say that "People in Bermuda should not expect the same behavioral effects from Danielle or Earl, compared to Colin earlier in the season. While both will have some minor issues with wind shear and dry air, the overall atmosphere and water temperatures are much more favorable for sustaining both of these systems for the long haul." The graphic above, courtesy of Accuweather, shows their projection for the hurricane in relation to Bermuda.
Earl grew out of a tropical depression about 520 miles (837 kilometers) west of the Cape Verde Islands and has maximum sustained winds of 40 miles (63 kilometers) per hour.
Read More About