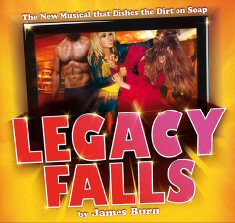 A Bermudian lawyer and a former Bermuda music teacher and composer have teamed up in London on the new musical "Legacy Falls," a production promising to dish the dirt on what goes on beyond the scenes at an American soap opera.
Bermudian Warren Cabral, managing partner of the London office of local law firm Appleby, is serving as executive producer of the well-received new show which features a book and score by long-time Bermuda resident James Burn.
The show opened to generally positive reviews at London's New Players Theatre on October 27 for a limited engagement. It runs until November 22. Featuring "the bitchiness and back-stabbing, the romances and the hair-pulling cat-fights, the hirings and firings, the bikinis and sex scandals, the tantrums, the deaths…and a slightly unrealistic earthquake", the musical comedy presents the goings-on that happen on-screen and off on the fictional soap opera, "Legacy Falls."
One critic called the well-received show "a comical masterpiece" and "ridiculously funny". Another said of "Legacy Falls": "There is enough here to impress, not least in the effort that it must take to a get a new musical by a little-known writer produced in London and there are plenty of laughs in here to make this an enjoyable show."
British-born Mr. Burn has worked in Bermuda a number of times starting in the late 1990s and he maintains close ties with the island: this year's Bermuda Musical & Dramatic Society Christmas pantomime "The Firebird" features original music he composed.
In 1994 he and Mr. Cabral, who was then still based on the island, collaborated on the original musical "Joan of Arc" which was staged at the BMDS's Daylesford Theatre.
Mr. Cabral and Mr. Burn have maintained their professional partnership and friendship in the intervening years and "Legacy Falls" is being staged under the auspices of the Bermudian lawyer's Choughed Productions Ltd.
The lawyer has been active in theatre both here and in the UK for more than 30 years, having written, produced, directed and acted in numerous shows. He also appeared in several episodes of the soap opera "The Young & the Restless" which were shot in Bermuda and says he can vouch for James Burn's take on the subject in "Legacy Falls."
Bermudians visiting London can book tickets for the show here.
Read More About
Category: All, Entertainment, News