Yesterday afternoon [Nov 1] Patrice Minors was sworn in at Government House, returning to Cabinet after a four year hiatus. Premier Cox appointed her to a new portfolio; Minister of Business Development and Tourism. The Tourism portfolio had previously been held by former Premier Dr Ewart Brown, and Premier Cox combined the portfolio with business development.
On the appointment Premier Paula Cox said "This is an exciting area, there has long been a desire to better align these two sectors and combining these responsibilities with an emphasis on development will instill confidence in Bermuda and our future in these two areas."
Minister Minors was educated at Berkeley Institute and Howard University in Washington, D.C., where she earned her undergraduate and graduate degrees in Business Administration. She is a past President of Big Brothers and Big Sisters of Bermuda and was voted "Big Sister of the Year" in 1998.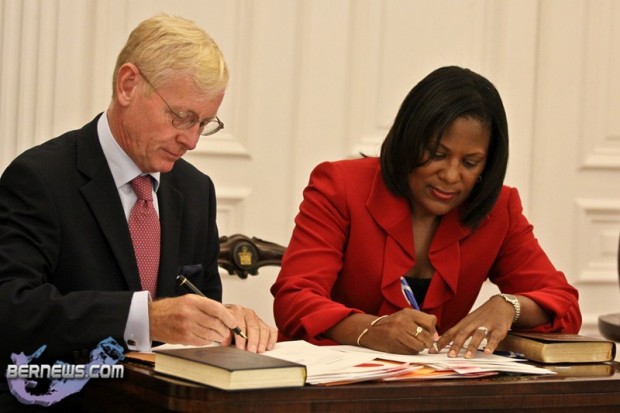 Minister Minors became a Member of Parliament in the 2003 General Election when she defeated UBP Candidate Allan Marshall by a margin of 123 votes. She was then appointed as Minister of Health and Family Services, a position which she held until October 2006.
In the private sector, she has worked for the Bank of Bermuda, Lombard Odier International Trust Company (Bermuda) Limited and Butterfield Bank where she assumed the position of Assistant Vice President of Trust Services in February 2007.
A member of the First Church of God North Shore, she and her husband Stewart are the proud parents of a young daughter, who sat front and center yesterday dressed in her school clothes to watch her mom be sworn in.
Below Minister Minors is sworn in:
You can view more videos/bios of the 2010 Cabinet appointees by clicking here.
Read More About