Yesterday afternoon [Nov 1] Michael Scott was sworn in at Government House, returning to Cabinet in a different capacity. He has been named Attorney General & Minister of Justice, taking over from Senator Kim Wilson who has been appointed as Minister of the Economy, Trade & Industry. Minister Scott previously held the portfolio of Energy Telecommunications and E-Commerce.
Having earned his Bachelor of Arts Degree in English Literature and History from Mount Allison University, Minister Scott was called to the English Bar in 1981 and the Bermuda Bar in 1982.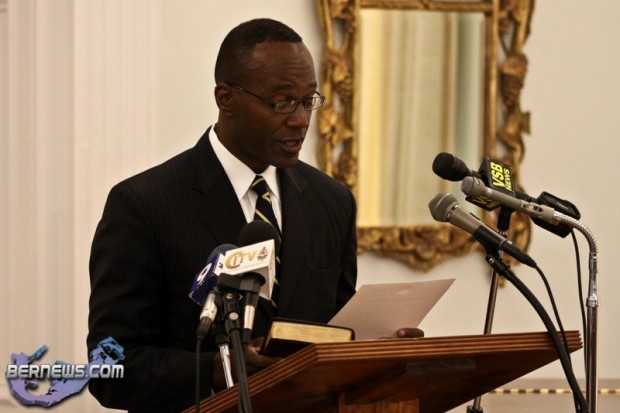 Following the PLP's victory in the 1998 general election, Minister Scott was appointed a Government Senator with responsibility for Legislative Affairs, Development & Opportunity, Telecommunications, and E-Commerce. After the 2003 General Election win, Mr. Scott was reappointed to the Senate as Government Senate Leader and Minister of Legislative Affairs.
Minister Scott contested and won the March 4th 2004 bye-election and became the Member of Parliament for Constituency 36, Sandy's North, filling the vacancy created by the untimely passing of then Minister of Finance Eugene Cox. He was subsequently appointed Minister of Telecommunications & Ecommerce. Mr. Scott was appointed Junior Minister of Justice in November 2006 and appointed Minister of Health in June 2007. Known to be a very close friend of Premier Cox, Minister Scott is said to be one of the Premier's closest confidantes.
Below Minister Scott is sworn in:
You can view more videos/bios of the 2010 Cabinet appointees by clicking here.
Read More About