Yesterday afternoon [Nov 1] Terry Lister was sworn in at Government House, taking on the position of Minister of Transport, a portfolio previously held in conjunction with Tourism by Dr Ewart Brown. Minister Lister had contested the PLP Leadership position this year, however was bested by now-Premier Cox. Minister Lister conducted a strong public campaign, hosting a series of Town Halls, and was the first Bermudian politician to join the social network Twitter.
Terry Lister was educated in Bermuda at the Southampton Glebe School and the Berkeley Institute. After studying at Trinity College School in Port Hope, Ontario, he became a Bermuda Government Scholar, completing his Bachelor of Commerce Degree at Queen's University School of Business Kingston, Ontario. At York University in Toronto he graduated with a Master's of Business Administration Degree.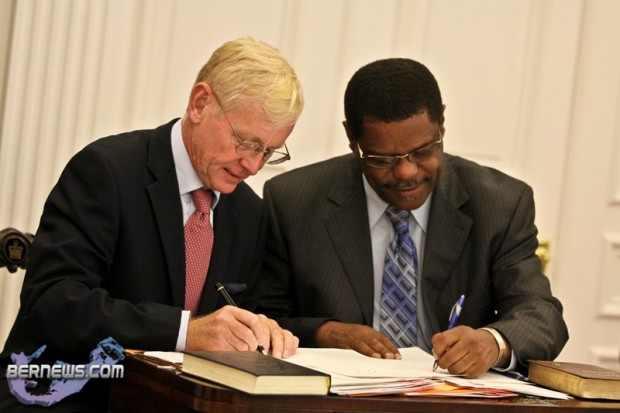 Upon graduation he worked in Toronto with the accounting firm of Price Waterhouse and qualified as a Chartered Accountant. He returned to Bermuda in 1980 and in 1981 open his own accountancy practice. In September 1982, he joined Deloittee and Touche as a full partner where he remained until 1998 when he retired to become a full time politician.
Terry Lister served as Campaign Chairman of the Progressive Labour Party Sandys Branch in the 1989 General Election. In 1993, he was the Party's National Campaign Co-Chairman. In October 1993 he was appointed to the Senate where he served as Opposition Spokesman for Finance, Tourism and Marine Services, Technology and Information, Works and Engineering, Parks and Housing.
Minister Lister has represented Sandys South since being elected to the House of Assembly in 1998. In 1993, he was appointed to the Senate where he served until 1998, when he became Minister of Development, Opportunity and Government Services in the first PLP Government.
He served as the Minister of Labour, Home Affairs and Public Safety from November 2001 to July 2003. Following the July 2003 election, Minister Lister served firstly as the Minister of Works and Engineering. Then in January 2004 he was appointed Minister of Education and Development.
Below Minister Lister is sworn in:
You can view more videos/bios of the 2010 Cabinet appointees by clicking here.
Read More About