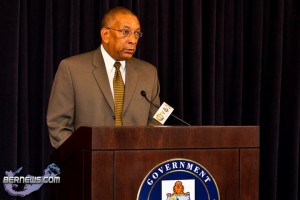 Bermuda's participation in a Caricom adjunct responsible for coordinating regional security in the Caribbean area is "critically important" for the island's safety, Government's Leader in the Senate told the Upper House yesterday (Dec.15).
National Security Minister Senator David Burch was reporting to the Senate on his recent participation in the Caribbean Community's Council of Ministers Responsible for National Security (CONSOLE) meeting held in Antigua on December 1-2.
"CONSOLE is chaired by Sen. L. Errol Cort, Minister of National Security & Labour of Antigua & Barbuda," he said. "I joined National Security Ministers from Jamaica, St. Kitts & Nevis, St. Lucia, the Bahamas, Barbados, the Cayman Islands and Trinidad & Tobago to discuss regional matters relating to security, policing and other law enforcement issues.
"There are still those who question Bermuda's participation in regional organisations and they are likely to continue to do so in spite of this or any report. But I can state that our participation at this level is critically important to the security of our country as evidenced by our enhanced collaboration and interdiction successes by our border protection agencies."
Sen. Burch said immediately prior to the Caribben-wide 2007 World Cup of Cricket, Caricom formed the regional Implementation Agency for Crime & Security (IMPACS) to oversee and coordinate anti-crime activity in the region.
"Bermuda opted to participate and in fact provided Bermuda Regiment troops to assist with security in Bridgetown, Barbados," he said. "Additionally, our Commissioner of Police and Commanding Officer of the Bermuda Regiment participate in IMPACS conferences and workshops. Out of that effort IMPACS has evolved into a permanent agency.
Sen. Burch said of particular interest was a report and subsequent discussion on the first meeting of the Caribbean Basin Security Initiative (CSBI) — a joint initiative between the US and Caribbean countries launched earlier this year.
"CONSOLE also approved the introduction of a Border Security Fee of $5 (not one that Bermuda will participate in)," he said. "However, we shall likely reap some benefit as a portion of the fee will be allocated to fund IMPACS.
"As a result of this, the quota contributions currently made by member states will be reduced and ultimately eliminated."
The National Security Minister said concurrent with the Antigua meeting he nominated a senior Bermuda Police and Customs officer to attend a major regional conference on fighting organised crime and drug trafficking held in Port of Spain, Trinidad on December 2-3.
"This conference was sponsored and paid for by the United Nations Office on Drugs and Crime (UNDOC)," he said. "Our two representatives, Superintendant Andre Boyce and Principal Customs Officer of our Joint Intelligence Unity Mr. Steven Perinchief jointly presented on 'Risks & Threats: Answers That Work In Different Countries'."
Sen. Burch said attendance at both meetings would benefit Bermuda in coordinating its crime-fighting efforts.
Read More About