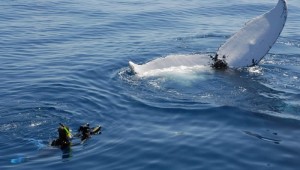 Bermuda documentarian Andrew Stevenson's "Where the Whales Sing" — which made a huge splash on the international nature film festival circuit last year — will be screened at the Bermuda Underwater Exploration Institute (BUEI) on January 13.
Tickets for the screening and lecture are available at the BUIE Gift Shop — members $15, non-Members $20, and there will be a dinner afterwards at the Harbourfront Restaurant for $39.75.
Three years ago Mr. Stevenson embarked on a project to film the North Atlantic humpback whales underwater in the middle of their mid-ocean migratory crossings.
He worked on the film between February, 2007 and February, 2010 during which time the humpback whales became an overriding passion. The film shares his journey, told through the eyes of his six-year-old daughter, Elsa.
The 60-minute documentary is the culmination of Mr. Stevenson's Humpback Whale Film & Research Project, intended to research and collect visual and acoustics data on the humpbacks as they migrate past Bermuda to broaden our knowledge of these magnificent animals.
This film was first shown at the Bermuda International Film Festival in March 2010. At its second film festival, the BLUE Ocean Film Festival in Monterey, California "Where the Whales Sing" was one of over 400 entries and one of 19 award winners. The film won "Best Emerging Underwater Filmmaker". Subsequent to that award "Where the Whales Sing" has been requested at numerous film festivals around the world including the Princeton Environmental Film Festival where it will screen on January 22.
Last month Mr. Stevenson donated copies of his film to the Bermuda Department of Education so it can be shown in the island's schools.
Mr. Stevenson is now working on an illustrated book of 30,000 words and 300 photographs based on the Humpback Whale Film and Research Project. This will be published by Constable and Robinson in London with co-publishers in Canada and Germany and will come out in September 2011.
Footage of humpback whales Mr. Stevenson shot off Bermuda during the course of his research for the documentary is shown below.
Read More About
Category: All, Environment, Films/Movies