Minister of Education Dame Jennifer Smith received what she termed a "magnanimous gift" from local film maker and nature conservationist, Andrew Stevenson. On Thursday [Dec 9] Mr. Stevenson visited the Ministry of Education and donated more than 40 DVD copies of his award winning documentary "Where the Whales Sing" to Minister Smith.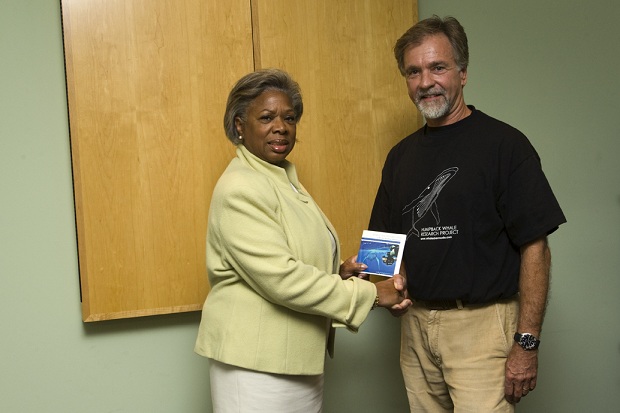 The three-year project chronicles the migration of the North Atlantic humpback whales. Their seasonal journeys have them passing through Bermuda's waters during the early months of the year. Copies of the film will be shared with the Island's public schools and be used as an educational tool for students.
Dame Jennifer said "This is a very kind and magnanimous gift from Mr. Stevenson and on behalf of the Ministry I want to thank him for sharing this with our school children. The story of the humpback whale is something that our children need to be aware of, because these magnificent creatures are part of our environment. I do hope this film will inspire some of our students to become adventurous, maybe even inspire some to become marine biologists."
Mr. Stevenson explained to Minister Smith that the documentary came to fruition after his 6-year-old daughter Elsa expressed an interest in the creatures after seeing one of them spouting water just off a south shore beach.
According to Mr. Stevenson, Elsa expressed such curiosity at the sight that he decided to dedicate the next three years of his life to chronicling the humpback whales' migration story as well as the dangers that threaten this unique marine species. Mr. Stevenson said Elsa was so much of an inspiration for the project that she narrated the film.
"Where the Whales Sing" has been warmly received locally, as well as internationally. In fact Mr. Stevenson was recently voted Best Emerging Underwater Filmmaker at the BLUE Ocean Film Festival in California.
"Where the Whales Sing" is airing on CITV (CableVision Ch. 2 and WOW Ch. 102) on December 11th and December 12th at 12.30 p.m., 8.30 p.m. and 4.30 a.m. For more information about Mr. Stevenson's work with the North American humpback whale, visit Whalesbermuda.com.
Read More About
Category: All, Environment, Films/Movies