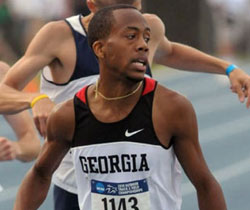 The latest NACAC rankings for the indoor season, which cover athletics in North America, Central America and the Caribbean, have been released – and Bermudian Aaron Evans is ranked #1 in the 800m with his 1:48.07, with fellow Bermudian Latroya Darrell ranked #8 with her triple jump of 12.95.
Both athletes are the national record holders in their genres, and both compete for the University of Georgia.
Earlier this month Aaron Evans [pictured] shattered yet another record – his third record breaking run in under a year. Mr Evans shot past his previous indoor 800 meter career-best time in the event by more than two seconds after clocking a 1:48.07 to take both his school and Bermuda records, after breaking the 1:48.34 record he set in 1984 by fellow Bermudian Steve Burgess.
Latroya Darrell also set a new Bermuda record recently, with her mark of 12.95 metres shattering the old record held by Aranxta King.
The North America, Central America and Caribbean Athletic Association [NACAC] is the continential confederation governing body of athletics for national governing bodies and multi-national federations within North America, Central America and the Caribbean.
Member countries include Anguilla, Antigua, Aruba, Bahamas, Barbados, Belize, Bermuda, British Virgin Islands, Canada, Cayman Islands, Costa Rica, Cuba, Dominica, Dominican Republic, Grenada, Guatemala, Haiti, Honduras, Jamaica, Mexico, Montserrat, Netherland Antilles, Nicaragua, Puerto Rico, Saint Kitts and Nevis, Saint Lucia, Saint Vincent, El Salvador, Trinidad and Tobago, Turks and Caicos, USA, and the US Virgin Islands.
Read More About