[Updated] Today [Mar 8] serves to celebrate International Women's Day, a global day celebrating the economic, political and social achievements of women past, present and future. International Women's Day honours the work of the Suffragettes, celebrates women's success, and reminds us of inequities still to be redressed.
This year is the 100th Anniversary of International Women's Day and the Ministry of Youth, Families, Sports and Community Development and The Department of Human Affairs is taking the lead along with The Centre Against Abuse, The Women's Resource Centre and the newly formed Bermuda Women's Council in organizing events for the month of March.
The '100 Women 100 Vision' project saw 100 Bermudian women nominated for their vauluable contributions to the advancement of women in Bermuda. The list includes notables such as trade union pioneer Dr Barbara Ball, entertainer Heather Nova, social activist Dr Eva Hodgson and many more women who have far ranging and wide accomplishments. The list is also notable for those it does not include, such as trailblazer Dame Lois Browne-Evans, and the first female Premier of Bermuda Dame Pamela Gordon.
The 100 nominees follow below:
Adams-Raynor, Lucetta Jane- deceased
Attride-Stirling, Dr. Jennifer
Attride-Stirling, Lucy
Autor, Lorelie
Bailey, JP, Leleath
Ball, OBE, Dr. Barbara
Barton, Simone
Basden, Jacquelyn
Bean, DBE, Dame Marjorie- deceased
Benn, Mariah- deceased
Bermuda Professional Women's Association
Bermuda Women's Suffrage Society-deceased
Big Blue Machine
Blakeney-Saltus, Gita
Boden, Liz
Brock ,Arlene
Brock Williams, MBE, Merle
Burgess, Helena "Molly"
Butterfield, MBE, JP, MP, Hon. D.I.Neletha
Caines, Shurnette
Cann (Smith), Dorothy L.
Cannonier, OBE, JP, Jeanette
Carter, Renee Marie
Christopher, Hazel
Christopher, Betty
Daniels,Verbena- deceased
Davis, MBE, Iris
Dill,Valerie
Douglas, Rose
Evans, Dorothy E- deceased
Faulkenberry, Rebecca
Feldman, Nicola
Fleming, Claudette
Foulger, Caroline
Furbert, Gilda Mae
Furbert-Woolridge, Rev. Betty Lorraine
Godwin, Margaret- deceased
Gordon, Diane
Harvey, Suzette
Hayward, Rev. Dr. Joyce
Hayward-Harris, Sylvia
Hill, MBE, Carol
Hill, MBE, Georgine
Hodgson, Dr. Eva
Horton-Symonds, Barbara
Howie, Lisa Annemarie
Jackson, Juliette
Jackson, MBE, JP, MP, Louise
Jacobs-Matthews, Heather
Joell,Wanda Mariea
Jones, Louise
Jones, Marion
Jones, Edna Mae
Mallory, JP, Oda
Matthews-Paynter, Dr. Dorothy
Maxwell, MBE, Florence
Morrell, Gladys Carolyn- deceased
Morrissey, Dorothy
Mosley, Evelou
Notter, Sheena
Nova, Heather
O'Kelly-Lynch, Ruth
Outerbridge, Marva
Outerbridge, Sherrie
Philip, Ismay Louise- deceased
Pimental, Joy C
Ray ,Tami Nakisha
Robinson, JP, Gryneth
Robinson,Wenona G.- deceased
Robinson,Toni Marie
Scott,Alice- deceased
Scott, MBE, Edna Mae – deceased
Shiell, Laurie
Simmons, Evangelist Joan
Simons, Rochelle
Simons Ratteray Burch, MBE, Frances- deceased
Smatt-Adkins, Jennifer
Smith,Ann
Smith,DBE,JP,DHumL,MP,Hon.Dame Jennifer M.
Smith, Lorna Joann
Smith-Gordon, MBE,Ann
Snelling, Juliana
Soares, MBE, Hilary
Spence, Gina V.
Spencer-Arscott,Ann
Swainson, Gina
Swan, Dr.Yvette
Thomas, MBE, JP, Ruth
Thompson, PhD, Dorothy- deceased
Trott, Olive- deceased
Trott, Dorothy
Trott Butterfield, Dorothy – deceased
Tucker, Dr. Olivia- deceased
Wade, Fern
Wade-Miller, JP, Justice Norma
Williams, Chief Inspector Na-imah
Wilson,Andrea
Wilson-Tucker, Joy
Young, Carolyn
Young, Kim
Update: Congratulations from Kim.Swan, Leader of the Opposition below:
Today is the day that commemorates the 100th Anniversary of International Women's Day.

It is also another fine day that the Lord has made and I am exceedingly glad to be able to acknowledge that as we take time to recognise the contribution of 100 outstanding Women of Vision in Bermuda.

On behalf of my wife Cindy and my United Bermuda Party colleagues, it is an honour for me to pay homage to the worthy women nominated by the public and announced today in recognition of 100th Anniversary of International Women's Day.

Personally, I am appreciative because of the toils of my mother and other significant women who have had a positive influence on my life.

Let us remember and celebrate the spirit of caring, compassion and spirit of love that are important characteristics which often symbolise women.

Today, we congratulate the 100 Women of Vision, for their contributions which have enriched the lives of others and added value for the betterment of our society.

Let their example which has been a light that burns brightly in our midst, continue to be a beacon amidst the fog of uncertainty and challenges that we face.

Let the good values that they have applied continue to be infectious to their family, friends and by extension our country.

Congratulations to each recipient on being named amongst the 100 Women of Vision in recognition of the 100th Anniversary of International Women's Day.
Update #2: Minister of Youth, Families, Sports and Community Glenn Blakeney's full remarks follow:
PROTOCOL HAVING BEEN ESTABLISHED Let me start by thanking everyone in attendance this afternoon for joining us in the Bermuda Government's celebration and Proclamation of the 100th Anniversary of International Women's Day. In particular I would like to commend the staff of the Department of Human Affairs and members of the Women's Council for organizing this event. I also want to congratulate our honourees and extend a Bermuda welcome to our distinguished international speaker whom you shall hear from shortly.

The Bermuda Government's theme for this special 100th Anniversary of International Women's Day and for 2011 is "Strong Women Create Strong Communities".

So what are we celebrating today?

First, we are certainly celebrating the 100 Women who had 100 Visions! These women, who have been nominated by the general public and selected by the Bermuda Women's Council, span a century of contribution, charitable works and progress for a better life.

Some are no longer with us and we also recognize their achievements.

I would like to acknowledge and applaud the women who ARE present here today for their outstanding achievements and contribution to Bermuda. These ladies are identifiable by the purple ribbon which they are wearing and we applaud you.

What else are we celebrating today?

Certainly the progress that Bermuda has made towards equality between men and women. We are celebrating our solidarity with other women from around the world and as we do, we must particularly remember those living in conflict and in poverty, and whose rights are violated daily.

As we celebrate, we should also reflect on where we stand in Bermuda, how far we have progressed and what still needs to be achieved to ensure equality and those rights and opportunities that are integral parts of womens rights as citizens.

Bermuda is an island of some 65,000 people, and according to the last census 52% are female and 48% are male. Yet we still cannot say that women in general enjoy the same status as men in our society nor can we say that they are properly represented at the national decision-making level. Although great achievements have been made and our esteemed Hounorable Premier Cox is Bermuda's 3rd female Premier and our Senate is predominantly female, only 19% of the Members of Parliament are female.

Women are increasingly better-educated with more and more girls out-performing boys in primary and secondary school. Yet these achievements are not similarly reflected upon maturity in their adult professional life. The glass ceiling – and the sticky floor – continue to be realities for women.

Equally noteworthy is a tendency of many from the younger generation who feel that all the battles have been won for women. With more women in the boardroom, greater equality in legislative rights and more and more women being role models in all facets of life, one could think that women have gained true equality. The unfortunate fact is that women are still not paid equal to that of their male counterparts and women are still not present in equal numbers in the business world and in politics.

Women continue to shoulder the bulk of the responsibility for caring for children and elderly relatives. The reconciliation of work and family life, which we talk about so much, is still mainly regarded as a woman's role.

The Government in the last 12 months has put a renewed focus on gender affairs and in particular women and women's issues. The recently formed Bermuda Women's Council, chaired by Ms. Laurie Shiell, has a number of tasks that are currently being addressed, including the development of workplace sexual harassment policies, research and recommendations on family leave policies and identifying any social, educational, economic and legislative policies and barriers that prevent the full participation in any aspect of Bermuda life. The Department of Human Affairs, which has as part of its remit the mandate for gender affairs, provides both financial and technical support to the Council.

And finally, as announced today by Premier Cox, Bermuda's ratification of the Convention on the Elimination of Discrimination Against Women (also known by the acronym CEDAW) is indeed imminent. The extension of this Convention to Bermuda will go a long way to showing the world that this Government is committed to guaranteeing that our Women are afforded international protections.

My Ministry is responsible for ensuring that those matters or areas identified as requiring further attention will be addressed and that the spirit and intent of CEDAW is accomplished.

Please enjoy the rest of the celebrations planned for the month of March and a Calendar of Events is available for collection here today. Once again, congratulations to the 100-women that we honour here today for their invaluable contributions respectively, which is a true testamennt that "Strong Women Create Strong Communities". THANK YOU …….
Click to enlarge poster: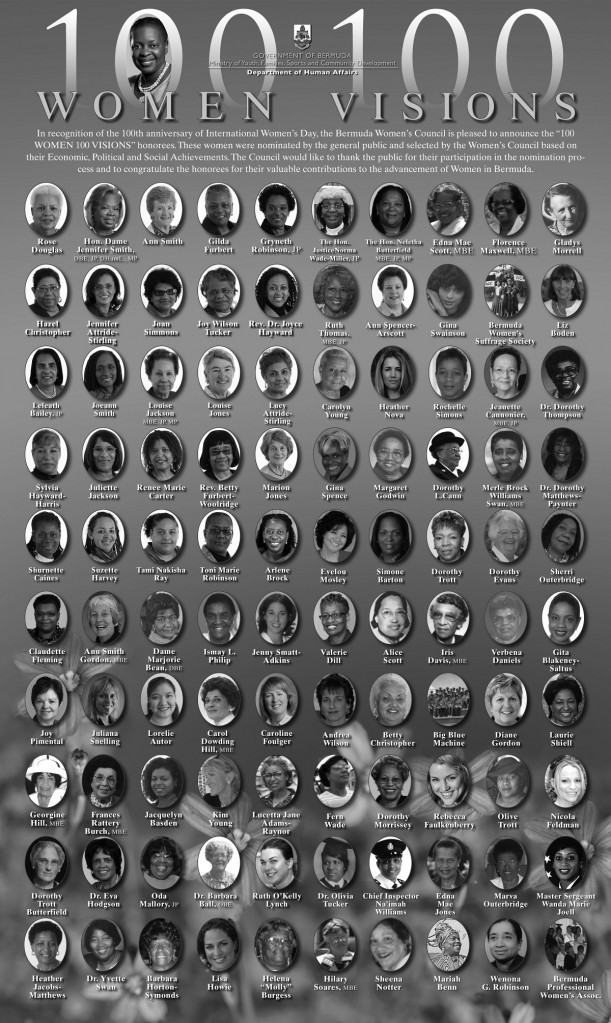 [Editors note: We apologise for our tardiness in covering this very important news. However, Bernews was excluded from the initial release of information which Government opted to publicise in the form of a paid advertisement.
Bernews had planned to provide full coverage and comprehensive information about the Bermuda nominees, free of charge, to mark International Women's Day. After contacting the relevant officials, we were finally provided with a copy of the advertisement and names, as seen above, at approximately 9:45am this morning.]
Read More About