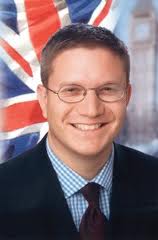 Andrew Rosindell, the British MP who came under fire from Minister of National Security Lt. Col. David Burch, has hit back at the comments saying he is a "friend of Bermuda," and the "Minister's aggressive outburst was unfortunate."
This past Monday [Mar.23] Minister of National Security Lt. Col. David Burch had strong words for Andrew Rosindell,  saying he was "disrespectful", "out of order" and that his behaviour was "a breach of every solitary protocol that exists across the planet."
The Colonel's statement was greeted with great interest by locals, with almost 200 comments left on the article and on the Facebook link – some agreeing with the Colonel, while others disagreed with the remarks.
The Conservative politician is the Member of Parliament for the Romford constituency in Greater London. No stranger to controversy himself, Mr Rosindell drew considerable media attention in the UK after sponsoring an 'Erotica Event' at the UK's House of Commons.
The DailyMail reported that, "A Tory MP came under fire last night for letting a businessman who has donated money to him hold an £89-a-head 'Erotica House of Commons Dinner' followed by a sex party where guests must wear kinky fancy dress." He also hit the headlines in in the run-up to the 2001 General Election when he campaigned with his dog, who wore a Union Flag waistcoat.
The British MP was said by Colonel Burch to have visited Bermuda for a UBP event, to which Mr Rosindell said that although he did attend a UBP event while he was here, he did not come specifically for the event. Mr Rosindell said he traveled to the USA, and had arranged to stop in Bermuda on the way back. He said as the UBP is a Conservative party, "it is their sister party."
Upon checking with the UBP about Mr Rosindell's visit, a spokesperson said, "Conservative MP Andrew Rosindell is a friend of Bermuda who we see annually at the Conservative Party conference (ie.2009 and 2010). We are most pleased that Mr. Rosindell MP was able to address a gathering of United Bermuda Party Parliamentarians, Executive and Friends on Saturday, February 19th at a reception/dinner at the Mid Ocean Club. In addition, he also had a round table discussion with our Shadow Ministers the following day (Sunday). "
Mr Rosindell told us he learned of the comments by Minister Burch with "great sadness." He said "Mr Burch should get his facts straight before he makes aggressive remarks." He said he did not meet with Colonel Burch, nor did he hear from him while he was in Bermuda. He also said he meet with many PLP members while he was here, and said he got along very well with them. He continued on to say that he is a friend of Bermuda, and a friend of the Overseas Territories.
Mr Rosindell responded to Colonel Burch's statement that, "I would suspect, that on the return to the United Kingdom he's probably had what I would call a 'come to Jesus talk' with those who sit on the Front Bench in the British Government, starting with the Foreign Secretary… how do you go out to the colonies and talk about you're going to enunciate policy. What's up with that?"
In response, Mr Rosindell said "How dated is this man?", and said Bermuda is not a colony, it is an overseas territory, which he called "cherished" and a "model territory." He also said the Bermudians have not expressed interest in independence.
During his visit, the Royal Gazette reported that Mr Rosindell "expressed concern during his visit that the Union Flag, also known as the Union Jack, was removed from the Front Street flagpole in October 2009 and replaced with the Bermuda flag," and said he thinks both flags should fly.
Colonel Burch responded to his remarks in the Senate saying, ""And then you want to suggest that you want to see the British and Bermuda flags together, because the Union Jack or Union Flag is the flag that unifies all British people across the world. We should never be afraid to fly it. Well stay home and fly it."
We asked Mr Rosindell specifically about the flag issue, and he asked why the Colonel "is not proud of the flag?" He said the comments sounded close to "denigrating" the flag, continuing on to say that the Colonel "is a British subject like I am, so why wouldn't he want to see it fly?"
Mr Rosindell also said he greatly enjoyed his trip to Bermuda, and plans to become a regular visitor.
Read More About