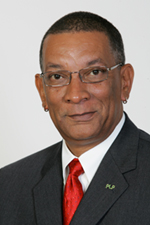 This evening [Mar.23] Minister of National Security Lt. Col. David Burch had strong words for Andrew Rosindell, a British MP who recently visited the island, saying he was "disrespectful", "out of order" and that his behaviour was "a breach of every solitary protocol that exists across the planet."
Speaking in the Senate this evening, the Colonel commented on Mr Rosindell's desire to see the Union Jack flag flying in Bermuda along with the Bermuda flag, saying Mr Rosindell can "stay home and fly it."
Colonel Burch also said he could put Mr Rosindell on the stoplist, however he won't as he does not allow his "personal offence to dictate my Ministerial responsibilities."
Andrew Rosindell, Chairman of the All Party Parliamentary Group on the British Overseas Territories, spent three days in Bermuda last month. During his time here, he visited locations around the island including Dellwood Middle School and the Perot Post Office. Colonel Burch said Mr Rosindell was originally scheduled to travel to the island to attend a UBP event, which was cancelled, however he still came to Bermuda.
The Conservative politician is the Member of Parliament for the Romford constituency in Greater London. A profile on the BBC website describes Andrew Rosindell as a "right-wing populist and formidable campaigner" whose "views also help him to get noticed. He is pro hanging and firearm ownership."
Speaking on Mr Rosindell's visit to the island last month, Colonel Burch said, "He talked about debt, out of order, out of order. You are a backbencher, and you're coming into somebodies…you descended on British for the very first time in your life, and you want to tell us what to do?"
"And then to add insult to injury Madame President, you have a meeting with the leader of the country, the leader of a country, and you're in the paper the next day talking about she's cynical. What are your talking about? That is a breach of every solitary protocol that exists across the planet irrespective of politics."
"And then you want to suggest that you want to see the British and Bermuda flags together, because the Union Jack or Union Flag is the flag that unifies all British people across the world. We should never be afraid to fly it. Well stay home and fly it."
The Colonel then spoke about independence, and went on to speak about Mr Rosindell again, saying that he knows the British read the papers, and "I want them to know, not even as a member of the Government, as a Bermudian, I am offended that you would think to bring yourself off of British and presume….to tell us what to do."
"I would suspect, that on the return to the United Kingdom he's probably had what I would call a 'come to Jesus talk' with those who sit on the Front Bench in the British Government, starting with the Foreign Secretary… how do you go out to the colonies and talk about you're going to enunciate policy. What's up with that?"
"And I just cannot allow the fact that the man just disrespected us, and I will say one more thing he is lucky, he's lucky I don't allow my personal offence to dictate my Ministerial responsibilities. I could put him on the stoplist you know."
"It's within the power of the Minister responsible for immigration. I won't. I could even put on that he don't land in my country without somebody at the airport letting me know he is here, so we can prepare [laughs]…I won't do that either."
"But what I do want to say is that no, it's not good enough. The fact that you are English and the fact that you landed on British is not sufficient to come here and tell us what to do."
"It's disrespectful, its like you invited me to your house for dinner and all I do is bitch and moan about what you served me."
"Disrespectful, I am not going to take it, I don't know about anyone else round here, but I had to record my displeasure. Thank you Madame President."
Update: Mr Rosindell's reply is posted here.
Read More About