KPMG in Bermuda yesterday [Mar.22] presented a cheque for $19,000 to the Sunshine League Children's Home. This donation is earmarked for the purchase and installation of a new security system to ensure the safety of the residents and staff at the care facility.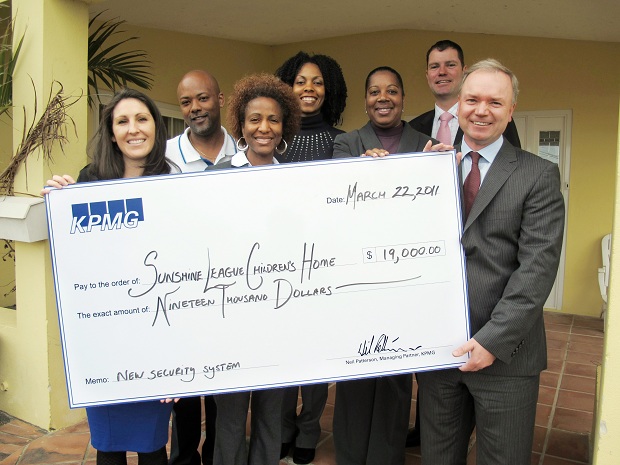 Managing Partner at KPMG in Bermuda, Neil Patterson, in making the presentation said, "It is a pleasure to donate these funds to a charity that performs such valuable service to our community. KPMG recognizes that everyone, no matter their circumstances, should have safe living conditions, an opportunity for education and a secure future."
Sunshine League Board Chair, Zakiya Johnson replied, "On behalf of the Board of Directors of the Sunshine League Children's Home, the staff and the young people, I sincerely thank KPMG for their continued support.
We are grateful that KPMG has chosen to make the safety and well-being of our young people a priority through their generous donation. Enhancing security was identified as a critical objective for the Sunshine League and we are very appreciative that KPMG shares our vision and has ensured that we are able to meet this goal."
Denise Carey, Executive Director of the Sunshine League acknowledged, "Over the last year, close to 30 young people were placed with us for care and protection and the new surveillance system will ensure that the Sunshine League continues to provide them with the best possible care. We thank KPMG for their collaboration and the heartfelt message to our children, which is that the safety of Bermuda's foster children is of fundamental importance."
Read More About