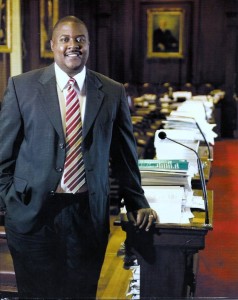 Fairmont Bermuda today [Apr.1] announced the appointment of Jamahl Simmons, the former press secretary to the Premier, to the position of Director of Public Relations for The Fairmont Southampton.
In this new position, Mr. Simmons will manage the internal and external communication program for The Fairmont Southampton and work with the Regional Public Relations team to market the resort internationally.
"We are thrilled to welcome Jamahl to The Fairmont Southampton's marketing team," said Shelley Meszoly, Regional Director of Sales and Marketing. "We are confident that Jamahl, with his strong relationships in the community, will be a tremendous asset to the hotel."
Prior to joining Fairmont Southampton, Mr. Simmons served as Press Secretary to former Premier Dr Ewart Brown, where he oversaw all aspects of the Premier's communications effort. In addition to his tenure at the Premier's Office, Mr. Simmons previously served as Premier Brown's Chief of Staff and as a Member of Parliament from 2002 – 2007. Mr. Simmons began his career as a Broadcast Journalist with VSB News and was recognized with a Bermuda Gold Award for Best Sportscaster in 1998. Mr. Simmons holds a Bachelor of Arts in Political Science from Howard University in Washington, D.C.
"Fairmont is always proud to appoint Bermudians to leadership roles at our hotels," explains Norman Mastalir, Managing Director at The Fairmont Southampton. "With his extensive and varied experience, Jamahl is an excellent addition to our team."
Read More About