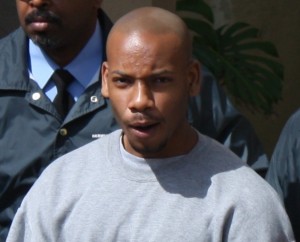 At the monthly Supreme Court arraignment session, Sanchey Winslow Grant, one of the defendants in the Southside Cinema shooting was today [Apr.1] further remanded into custody to await trial, but not before the Court heard that a fellow accused, Jahmel Blakeney had lost his bid to remain in the USA.
Mr Robert Welling, for the Crown, told the Court that Mr Blakeney's bid to stay away from Bermuda had failed as the US District Court of Appeals had rejected Mr Blakeney's latest request for a stay of execution in his extradition proceedings
Mr Welling also informed the Court that Kinte Smith, who is also charged in the Southside Cinema shooting had been located in Canada, and was now in Bermuda Police custody. Mr Welling said that a fourth person, whom he would not name, is also being sought.
Craig Attridge, lawyer for Mr Grant, made a lengthy submission in an effort to have Mr Grant released on bail, citing the fact that he had now spent one year in custody without having been brought to trial, having been originally charged on April 22, 2010. Mr Attridge pointed out that this was not in accord with the Chief Justice's recommendation that all Supreme Court trials should commence within six months of initial charging.
Justice Greaves, presiding, ruled that Mr Grant should remain in custody pointing out that under the circumstances and given that Mr Grant might himself be in danger from retaliatory actions by others, that he might be safer whilst in custody.
Justice Greaves also supported the Crown's application for a joint trial where all four accused should appear and be tried together. Mr Grant will re-appear for mention at the next monthly arraignment session on 2nd May 2011.
The charges relate to the November 13, 2009 shooting of both Shaki Minors [then 26] and school teacher Renee Kuchler [then 24], who were both shot as they left Southside Cinema in St. David's at approximately 11.30 pm. Both were rushed to hospital, and recovered from their injuries.
[File photo]
Read More About
Category: All, Court Reports, Crime, News