In the latest Bernews podcast, Shadow Tourism Minister Jamahl Simmons talks about various aspects of local tourism.
He welcomed the recent uptick in tourism numbers and said: "We have to be very clear that the world is our competition now, and this uptick has to be sustainable, maintained and continue to grow."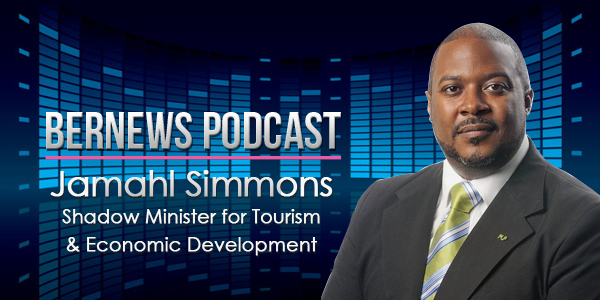 Mr Simmons said part of the issue was marketing, while another issue was the product.
Speaking about the high cost of coming to the island, Mr Simmons said, "We have to look at the little properties as well as the big boys and together broaden our product and broaden our approach."
If he were Tourism Minister, Mr Simmons said he would keep the Bermuda Tourism Authority but look for more accountability and openness, noting that they "are spending tax dollars."
24-minute podcast with Shadow Tourism Minister Jamahl Simmons: 
Mr Simmons also says he believes it is important to take the "day to day politics" out of tourism, adding: "I recognize the difficulty of getting a hotel to Bermuda….it is not easy to do.
"Part of the problem we have had is that we have been forced to mine for votes, and not always been able to connect the dots.
"We need to stop over-promising and under delivering," added Mr Simmons, saying one should be "thinking about return on investment as opposed to a return at the polls."
He also spoke about the importance of offering good service, differentiating ourselves, having Bermudians working in hospitality, and urged entrepreneurs to work towards filling any gaps in our offerings.

Bernews' podcasts aim to provide an in-depth look at current affairs, and the text extracts above represent only a small portion of the full interviews.
You can also download the episode in MP3 format here, view past podcasts here, and subscribe via iTunes to download all our podcasts directly to your phone or tablet.

Read More About