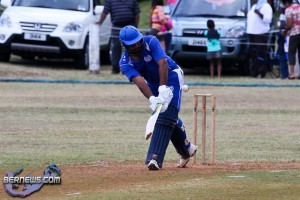 Today [May 19]  the Bermuda Electric Light Company Limited [BELCO] and the Bermuda Cricket Board [BCB] presented cheques for the ninth annual BELCO Cup which was held last weekend.
BELCO president Andrew Parsons congratulated Southampton Rangers for their seventh victory over last year's winners, Pembroke Hamilton Club [PHC].  Janeiro Tucker took home man of the match for his second year in a row.
BELCO, the Bermuda Cricket Board and St. David's County Cricket Club, who traditionally host the final, jointly agreed that the charity, The Cornerstone Foundation, should benefit from proceeds of the final this year.
The Cornerstone Foundation, which helps to improve the living conditions, education and quality of life for young children, teenagers and adults, is the recipient of the admission proceeds to the final.
In addition, the umpires generously contributed their fees for both days to the charity.  As a result, BCB presented a cheque for $2,963 to The Cornerstone Foundation.
As Cup sponsor, BELCO also presented a cheque for $3,000 to the Bermuda Cricket Board.
Prize cheques were also presented to the following:
Winners - Southampton Rangers — $1,500
Finalists - Pembroke Hamilton Club (PHC) — $1,000
Semi-finalists - Willow Cuts Cricket Club and Baileys Bay Cricket Club — $500 each
Man of the Match - Janerio Tucker — $300
Read More About