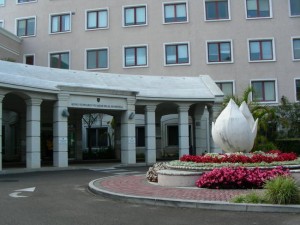 Both shooting victims from yesterday [May 23] remain hospitalized, and are both listed as stable this evening.
The Police said that at around 12:30pm yesterday, two men wearing dark clothing and riding on a dark motorcycle drove from the direction of Cedar Park onto Frog Lane, where they drove behind the two victims who were also traveling on a motorcycle.
Both motorcycles traveled west along Palmetto Road when shots were fired at the victims, after which the suspects sped away on to Border Lane North towards Friswells Road.
The victims, a 48 year old man and a 39 year old man, were taken to King Edward VII Memorial Hospital for treatment.
Police investigators are making an appeal to any persons who were in the areas of Old Military Road, Frog Lane, Palmetto Road or Roberts Avenue at around 12.30pm and saw the pursuit, suspects or suspects' vehicle to immediately contact police.
Alternatively any persons who have any information about this shooting incident, whether they believe it to be significant or not, are asked to contact Police on 295-0011 or the confidential Crime Stoppers Hotline at 800-8477.
Read More About