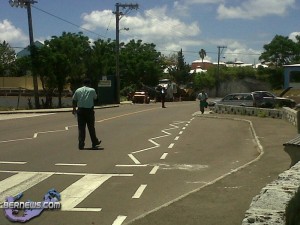 [Updated] A short while ago [May 23] there was a shooting in the Palmetto Road area just west of Devonshire Recreation Club.
Bernews unofficially understands that two people may have been shot.
The Police have presently blocked off Palmetto Road from the junction of Roberts Avenue on the western side, and from the Dock Hill roundabout on the eastern side.
We have limited information at this time but will update as able.
Update 1:05pm: Some area residents have reported hearing four or five gunshots.
Update 1:07pm: We unofficially understand the injuries are not believed to be life-threatening.
Update 1:12pm: We unofficially understand the victims are in their late thirties or early forties.
Update 1:17pm: Police confirm two people have been shot and were transported to King Edward Memorial Hospital by private vehicle.
Update 1:30pm: Police confirm the shooting took place at approximately 12:35pm, and the victims are 48 and 39 years old. They were rushed to hospital and are presently being treated for gunshot wounds. Police said the condition of the two men is unknown at this time.
Update 1:35pm: Although the general vicinity is known, it is unclear at this time exactly where the shooting took place. Police officers were seen examining the area of the bus stop on Palmetto Road.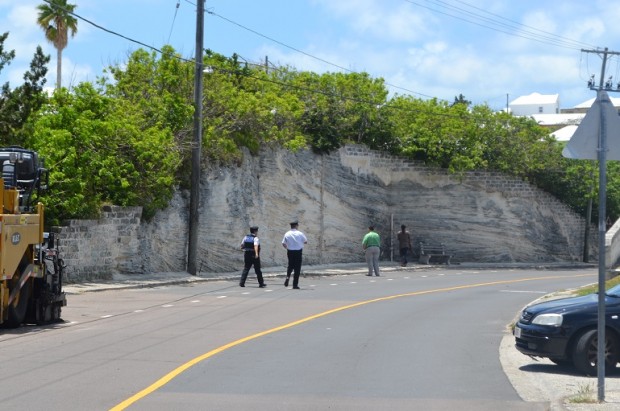 Update 2:07pm: Police statement
Around 12:35pm on Monday, Police responded to a confirmed firearm incident in the Palmetto Road, Devonshire area. A 48 year old man and a 39 year old man received gunshot wounds and were taken to King Edward VII Memorial Hospital for treatment.

The extent of their injuries is unknown at this time. Police have cordoned off the scene and an active investigation into this incident is underway. Police are appealing for any witnesses or anyone with any information to contact the Serious Crime Unit on 295-0011 or the independent, confidential Crime Stoppers Bermuda hotline on 800-8477.
Update 5:20pm: Both shooting victims are on general wards listed as stable.
Update 5:57pm: Police have issued a statement saying that it appears that two men wearing dark clothing and on a dark colored motorcycle shot the victims, who were also on a motorcycle. The full statement follows below:
Around 12:30pm today police received a number of telephone calls regarding the sound of gun shots in the Palmetto Road area. A short time later police officers received information that two men attended the emergency area at King Edward VII Memorial Hospital suffering from suspected gunshot wounds.

Police attended the hospital and can now confirm that both men received wounds which appear to have been inflicted by the use of a firearm and are being treated for non-life threatening injuries Police immediately commenced investigations into this attempted murder of a 48 year old man and a 39 year old man.

Initial information suggests that two men wearing dark clothing and riding on a dark colored scooter type motorcycle drove from the direction of Cedar Park (Old Military Road) onto Frog Lane, where they drove behind the two victims who were also traveling on a motorcycle.

Both motorcycles traveled west along Palmetto Road when shots were fired at the victims from the suspects' vehicle. A brief pursuit began and eventually the suspects' vehicle drove on to Border Lane North towards Friswells Road making good their escape.

Both victims realized that they were injured and travelled to the King Edward VII Memorial hospital for treatment. Investigators are making an appeal to any persons who were in the areas of Old Military Road, Frog Lane, Palmetto Road or Roberts Avenue at around 12.30pm and saw the pursuit, suspects or suspects' vehicle to immediately contact police.

Alternatively any persons who have any information about this shooting incident, whether they believe it to be significant or not, are asked to contact police at telephone number 295-0011 or the confidential Crime Stoppers Hotline at 800-8477.
Read More About