Bermuda's young athletes returned to the island last night [July 4] after picking up three medals at the 2011 Central American and Caribbean Age Group Track and Field Championships which took place in Tortola, British Virgin Islands this past weekend.
Azaire Smith won a Bronze medal in the 13-14 high jump, Elisha Darrell won a Silver medal in the 11-12 high jump and Jordan Bascome won a Silver medal in the 13-14 1000m.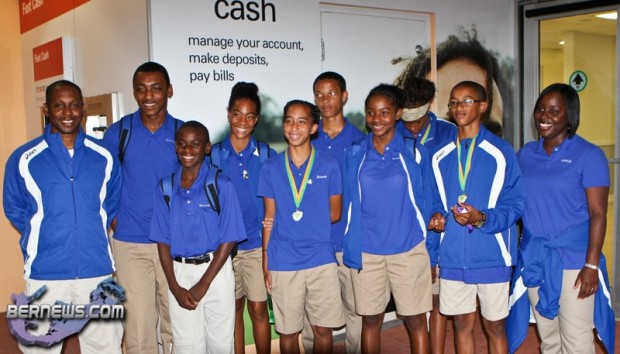 Anasia Barclay placed 16th and Demiqua Daniels 23rd out of 33 competitors in the 11-12 Girls Age Group. Azaire Smith 18th and Jordan Bascome 25th out of 37 competitors in the 13-14 Age Group. Elisha Darrell 12th and Aaron Jacobs 20th out of 32 competitors in the 11-12 Boys. Tez Terry 23rd and Daiquin Arorash 29th out of 36 competitors in the 13-14 Boys.
Bermuda placed 10th overall out of 20 countries and was able to pick up 3 individual medals. The top countries were Barbados 1st, Bahamas 2nd and Trinidad & Tobago 3rd.
The two-day Championships targets 11-12 and 13-14 aged athletes. Countries competing were Anguilla, Aruba, the Bahamas, Barbados, Bermuda, the Cayman Islands, Curaçao, the Dominican Republic, El Salvador, Grenada, Guadeloupe, Jamaica, Martinique, Mexico, Puerto Rico, St. Kitts and Nevis, St. Vincent and the Grenadines, Trinidad and Tobago, and the U.S. Virgin Islands.
Their return caps off what has been a banner week for Bermuda in international competition.
The 2011 Island Games in the Isle of Wight saw Bermudian athletes win 18 medals, while local swimmers won five medals at the Central American & Caribbean Swimming Championships in Puerto Rico.
Tyrone Smith qualified for the 2012 London Olympics with a leap of 8.16m in the long jump, and Christopher Rego won the Bahamas ITF/COTECC Junior Tournament.
This past week also saw the Bermuda Hogges win two consecutive games in the U.S, our junior sailors competing in California, and 81-year-old Skipper Ingham showed he still has it - finishing 6th at the US Open Karate Championships in Florida.
Read More About