[Updated] There was a shooting in the Court Street area a short while ago this evening [July 4]. Bernews understands that one person may have been shot, and unofficial reports suggest the victim may be a female.
We have limited information at this time but will update as able. Bermuda had experienced a short lull in gun violence recently, with no shootings for the past 6 weeks; the most recent time someone was shot was May 23.
Update 12:30am: Police are present, with the area cordoned off from all sides with crime scene tape. There are some bystanders present.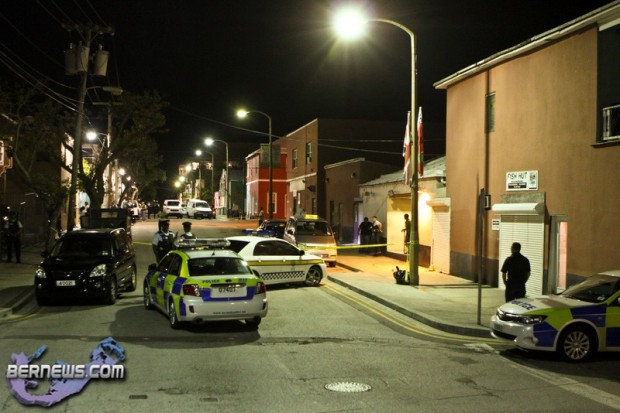 Update 1:06am: The forensics unit are on scene, and could be seen searching the front door area of Swinging Doors at this time.
Update 1:26am: Police confirm that a 26-year-old woman received gunshot injuries. She is the third female to have been shot in recent years, following the shooting of a 17-year-old female at Dandy Town in April 2010, and the shooting of a 24-year-old woman in Southside in November 2009.
Update 1:30am: Police spokesman Dwayne Caines said that it appears persons on a bike fired into a crowd, and that a man also received non gunshot related injuries. Video statement below:
Update 1:38am: Police statement:
Police responded to a report of a confirmed firearm incident that took place at 11:28pm on Monday on Court Street in Pembroke outside of Swinging Doors.

It appears that men traveling on a motorcycle shot at a group of individuals congregated outside of Swinging Doors, resulting in a 26 year old woman being shot.

She has been conveyed to King Edward VII Memorial Hospital where she is being treated for her injuries which are not believed to be life threatening. A man was also taken to the hospital with superficial, non gun related injuries.

Police are appealing for witnesses or anyone who may seen anything or anyone acting suspiciously to please contact police on 295-0011 or the confidential Crime Stoppers hotline on 800-8477.
Update 1:53am: Police are beginning to remove crime scene tape. Car owners whose cars were within the Police cordon tape are now being allowed to move their cars.
Update 3:15am: All police presence is gone from Court Street, and the area is completely quiet. The photos below are from earlier, and show the police examining the area.
Update 7:00am: The victim is listed in stable condition in the Intensive Care Unit this morning.
Update 9:30am: The man who received non gunshot related injuries has been released from hospital.
Read More About