10-year-old Bermuda sailor Matilda Nicholls beat 85 others to win her division during the British National Sailing Championship today in Wales.
Bermuda Optimist Dinghy Association sailor Matilda Nicholls was crowned the UK National Champion of the 86 boat Regatta Racing Fleet at the Volvo Gill Optimist British National and Open Championship which concluded today [Aug.5].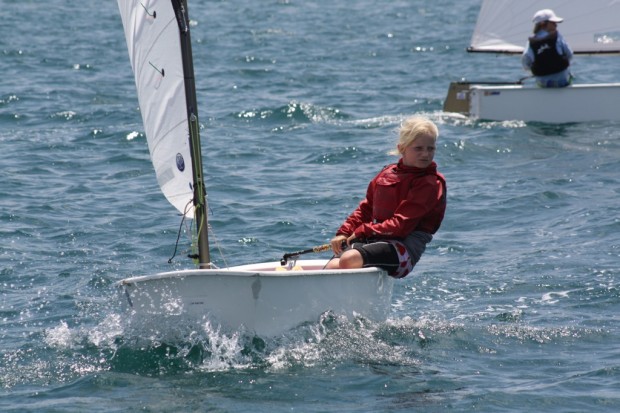 Matilda joined 450 opti sailors in seven divisions at the Pwllheli Sailing Club in North West Wales for the 5 day event. She claimed the top spot in her division after the second day and never looked back.
She finished in the top 10 of every race except for one which she was able to discard. She also scored a total of 4 first place finishes. Wind conditions ranged from practically nothing on the first day to 8 – 12 knots for the rest of the regatta
Matilda's sister 7-year-old Flo also performed extremely well finishing 12th in the 64 boat Regatta Coaching Fleet, winning the last race of the regatta which moved her up the leader board significantly.
13-year-old Rory Caslin sailed very well at the top of the Senior Racing Fleet and qualified for the 71 boat Gold Division where he finished 18th in a strong field of international sailors. The Champion of the Gold Fleet was Leonard Takahashi-Fry from New Zealand.
The UK Optimist Association Chairman, Simon Rogers said he was impressed by the high calibre of sailors from Bermuda and hopes that more UK Optimist sailors will come to Bermuda to compete against the BER sailors soon.
The UK's top Optimist sailor Matthew Whitfield will be coming to Bermuda to compete in the Royal Bermuda Yacht Club's Junior Gold Cup. He already knows it to be one of the world's most challenging regattas for Optimists and is looking forward to competing against the best of many leading sailing countries. His coach likened it to an Olympic Regatta with just 1 sailor from each nation competing.
[Age corrected from 9 to 10]
Read More About