The Chewstick Foundation Griot sessions will showcase the talents of dancer, actor and singer Malachi Simmons as a part of an innovative initiative to raise funds in support of the young performer's university education.
A special Griot Session will be held on Wednesday, September 7 at the Chewstick Neo-Griot Lounge & Café on Elliot Street, beginning at 8:00pm, Malachi will showcase his talents for acting, dance, and song immediately following an opening performance by singer/songwriter and Warwick Academy student Emma Keane. Proceeds from the Griot Session will support the cost of 19-year-old Malachi's education at prestigious Edge Hill University in the UK.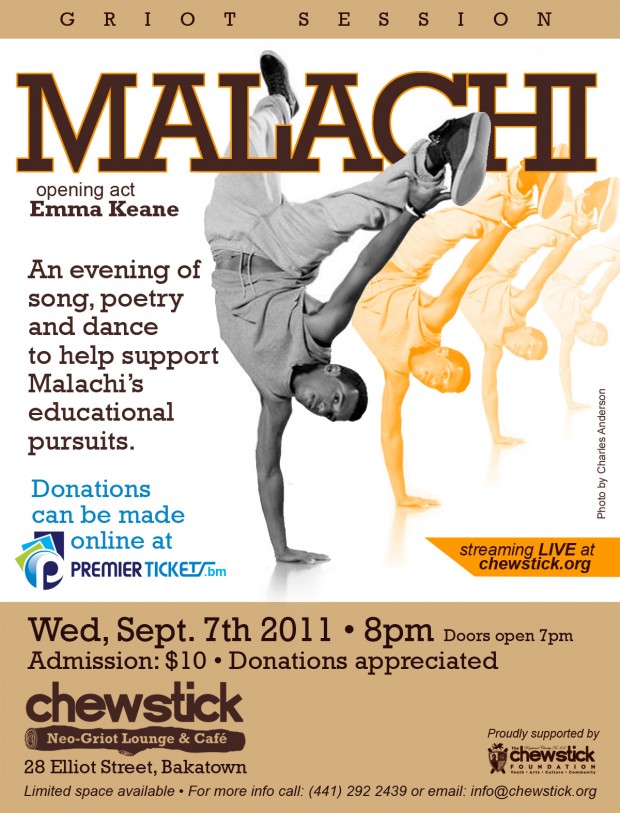 While Malachi has been able to secure scholarship funding from the Gilbert & Sullivan Society (G&S), Bermuda Musical & Dramatic Society (BMDS), the Leitner Scholarship, the National Dance Foundation of Bermuda and the Bermuda Shakespeare School Festival, he still requires $7,500 to meet the financial obligations of the first year of a three-year programme in physical theatre, a degree-granting course of study that will enable Malachi to pursue a variety of career paths in the performing arts.
A student of the performing arts for more than half his life, Malachi has established an island-wide reputation as a talented hip-hop and break dancer, actor and singer. He has performed with BMDS, G&S, The Chewstick Foundation, in various films and at special events, and has been featured with the professional dance troupe "Monztah". Malachi was also part of the 2004 Global Peace and Tolerance Debate Team. Currently, he teaches a free dance class at United Dance Productions.
Admission to the limited seating Griot Session is $10 at the door. Donations in support of Malachi can be made online at www.premiertickets.bm and will also be accepted at the door. All funds raised through Malachi's GRIOT session will be managed by the Trust for All the Arts, Bermuda registered charity #900.
For more information, please call 292-2439 (CHEW) or 535-2575, or email info@chewstick.org.
Read More About
Category: All, Entertainment