Malachi Simmons, Rory Wilson, Sarai Hinds will receive grants totalling $18,000 to aid them in their educational pursuits, Minister of Community, Culture & Sports Wayne Scott announced this morning [July 25].
The three young people are the recipients of the Bermuda Arts Council student scholarship grants.
Malachi Simmons is a Junior studying at Edgehill University pursuing a Bachelor of Arts in Dance, Rory Wilson, will enter the London School of Dramatic Arts as Freshman this fall pursuing an Advanced Diploma in Performing Arts/Film, and Sarai Hinds is a Sophomore studying at the School of the Museum of Fine Arts, pursuing a Bachelor of Fine Arts .
L-R: Sarai Hinds, Malachi Simmons, Minister Scott, Tona Symonds, Chair of the Bermuda Arts Council and representing her son Rory Wilson, Suzanne K. Wilson and her son Finn.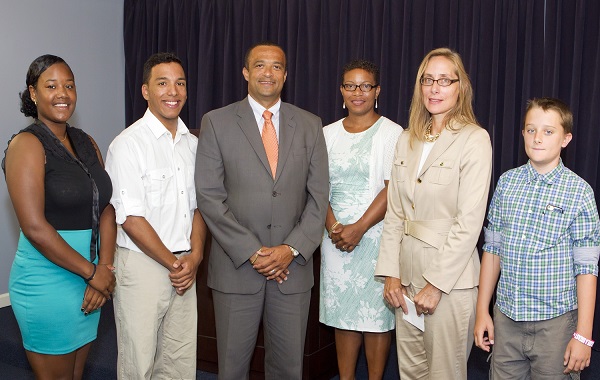 "These young people, have through the application process, demonstrated a proven record of excellence, exceptional talent, financial need and community service," said Minister Scott.
"I commend the efforts of the Bermuda Arts Council for their commitment to taking steps to preserve and support the Arts in Bermuda. Further, through these financial grants awarded today, they have demonstrated their commitment to youth development in the arts.
"I am pleased to say that in Bermuda we have a thriving arts community because of the efforts made by dedicated community organisations to showcase the extraordinary artistic talent of our residents."
Minister Scott's full statement follows below:
Good morning and thank you for coming.

On behalf of the Department of Community and Cultural Affairs, it gives me great pleasure to announce the recipients of the Bermuda Arts Council's annual scholarship grants.

The three deserving recipients are currently enrolled in courses of study in the fine arts, performing arts and visual arts. These young people, have through the application process, demonstrated a proven record of excellence, exceptional talent, financial need and community service.

Before I announce this year's recipients, I'd like to just take a moment to highlight the important role of the Bermuda Arts Council.

The principal objectives of the Bermuda Arts Council are to develop and improve the knowledge, understanding and practice of the arts; to increase the accessibility of the arts to the public and to advise and cooperate with Government Departments, art groups and societies on any matters concerned whether, directly or indirectly, with the arts in Bermuda.

Another aspect of the Council's mission is to ensure our young people who are studying careers in the arts are provided with the support they need.

So today, we are presenting grants totalling $18,000 to three young Bermudian students to aid them in their educational pursuits. I am pleased to recognise this year's worthy recipients of the Bermuda Arts Council student scholarship grants.

They are:

Malachi Simmons, who is a Junior studying at Edgehill University pursuing a Bachelor of Arts in Dance.

Rory Wilson, who will enter the London School of Dramatic Arts as Freshman this fall pursuing an Advanced Diploma – Performing Arts / Film

Sarai Hinds, who is a Sophomore studying at the School of the Museum of Fine Arts, pursuing a Bachelor of Fine Arts .

They will be awarded grants in the amount of $10,000, $5,000 and $3,000 respectively.

I commend the efforts of the Bermuda Arts Council for their commitment to taking steps to preserve and support the Arts in Bermuda. Further, through these financial grants awarded today, they have demonstrated their commitment to youth development in the arts.

Thank you to the Chairperson of the Bermuda Arts Council, Ms. Tona Symonds and members of the BAC, for their work in helping to make this funding support available for the youth of Bermuda. I encourage students, who are interested in pursuing a career in the arts, to prepare to apply for the scholarships next year.

I am pleased to say that in Bermuda we have a thriving arts community because of the efforts made by dedicated community organisations to showcase the extraordinary artistic talent of our residents. The Department of Community and Cultural Affairs will continue to work in partnership with these organisations to promote and support the Arts in Bermuda. We are committed to improving the lives of Bermudians during this period of financial and social recovery.

I will now invite the recipients to give brief remarks regarding their study.

Malachi, Rory and Sarai
-
Read More About