[Written by Laurie Fullerton] The RenRe Junior Gold Cup wrapped up Sunday afternoon [Oct.9] as a true champion of champions event. The world's best young sailors met each other for some premiere Opti sailing with 11 national champions facing off from 17 countries, including 22 Bermudian sailors. Taking home the Junior Gold Cup this year is American Wade Waddell, 14, of Miami, Florida.
Wade Waddell, winner of the 2011 Ren Re Jr Gold Cup shares a handle of the King Edward VII Gold Cup with Argo Group Gold Cup winner Torvar Mirsky: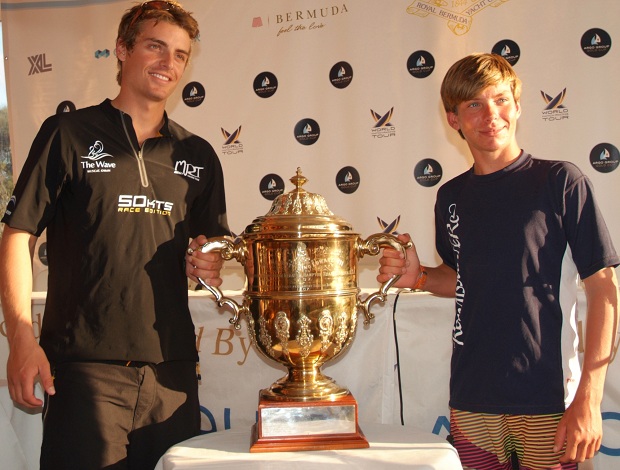 Waddell led the regatta over all four days. After finishing 12 races going in to today, his final race on Hamilton harbor was not his best but he got the job done. Waddell admitted that he protected his lead by banking on second place finisher Astrid Still of Finland, who was also was the top girl sailor of the overall event.
"In some ways I should have sailed my own race but I thought I should also protect my lead and 'sit' on Astrid," Waddell said. "I was focusing a lot on that today. "
Astrid Still, 15, who is a powerful sailor with real great instinct was disappointed she "couldn't sail my own race" but she said she probably would have done the same thing if she were leading.
Third place finisher Martyna Mik said "it was tricky today. I couldn't quite get the shifts right," but she had accumulated a solid performance and took home third.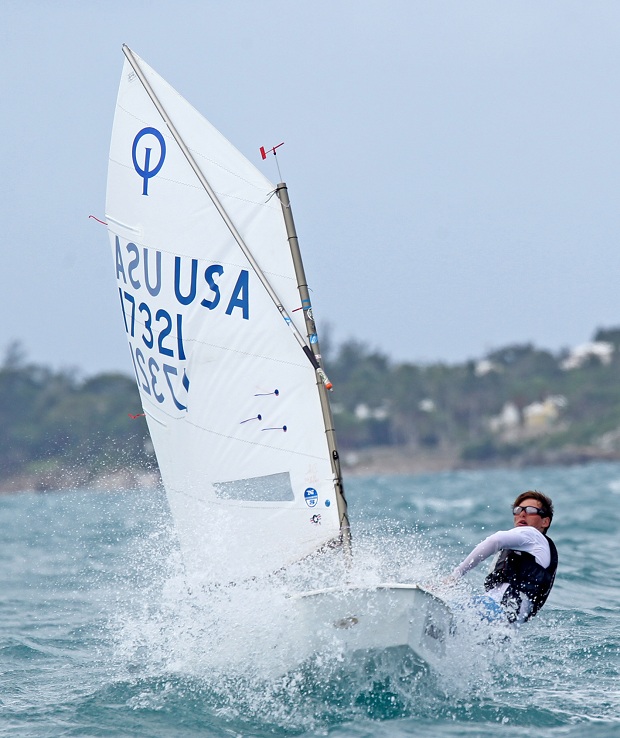 For Odile van Aanholt of the Netherland Antilles, who was second last year, her third Junior Gold Cup event was a bit tougher this year. "This year we had a lot better international competition and we really had a lot of shifty winds. It was a bit harder for me this time, but still great."
All the sailors enjoyed the opportunity to race on Hamilton harbor in front of a large crowd of spectators and Argo Group Gold Cup sailors, who competed in their final match just after the juniors.
Bermuda sailors really showed an overwhelming improvement after going up against these top racers. First over the starting line in the last race, was Bermudian Mike Wollman who port tacked the entire fleet at the start got the best start. Bermudians watching the race were thrilled with his start and Wollman later admitted that "I saw an opportunity and I just grabbed it. I learned the maneuver from my sister Cecilia so I just used her trick and it worked." Other Bermuda sailors who did well include Antonio Bailey, who placed 12th and Makai Joell who placed 14th.
"I realized that after racing against these international sailors here that I can do it, too," Joell said. "It was getting to be more clear that we are good, too. I think it is a matter of preparing yourself with mind and body. It really means getting in shape both mentally and physically for competition."
For event chairman Somers Cooper, "we could not have done this without Rennaisance Re Iwho will be sponsoring this event for the 10th year next year. It has really become the champion of champions event."
For more results and photos go to http://www.argogroupgoldcup.com and click on the Jr Gold Cup tab. Photos courtesy of Talbot Wilson and Charles Anderson.
Read More About