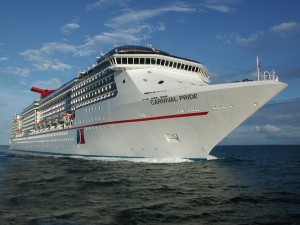 Strong winds and rough seas generated by the low-pressure front off Bermuda have delayed the arrival of the "Carnival Pride" cruise ship.
Bermuda Maritime Operations this morning [Nov. 7] said it had been informed that "Carnival Pride has been delayed by the bad weather.
The cruise ship will now arrive on Wednesday [Nov.9] rather than on Tuesday.
"The vessel will still depart at 3:30 pm on November 10 as scheduled," said Maritime Operations.
Operated by Carnival Cruise Lines, "Carnival Pride" has 1,062 staterooms and is based out of Baltimore.
She was the flagship of Carnival Cruise Lines from her completion in 2002 until 2011, when she was succeed by the "Carnival Magic" on May 1.
Read More About