[Updated] Earlier today [Nov.16] a car accident occurred which saw the car plunge head-first down into a residential property in the Tribe Road #6, Horseshoe Road, Southampton area.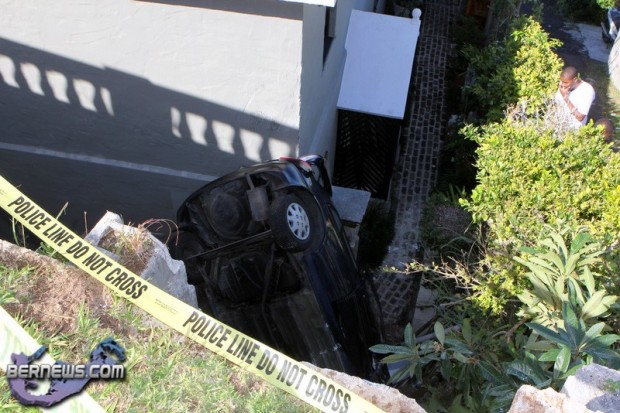 The accident occurred sometime before or around noon, and this afternoon construction workers removed the car using an extendable forklift. The procedure took quite some time, with the machine operator having to take care not to hit the surrounding property walls and cause further damage.
Area residents told Bernews the female driver appeared to come from another residential property, and smashed through a residential wall before the car plunged approximately 15/20 feet into the neighbouring property.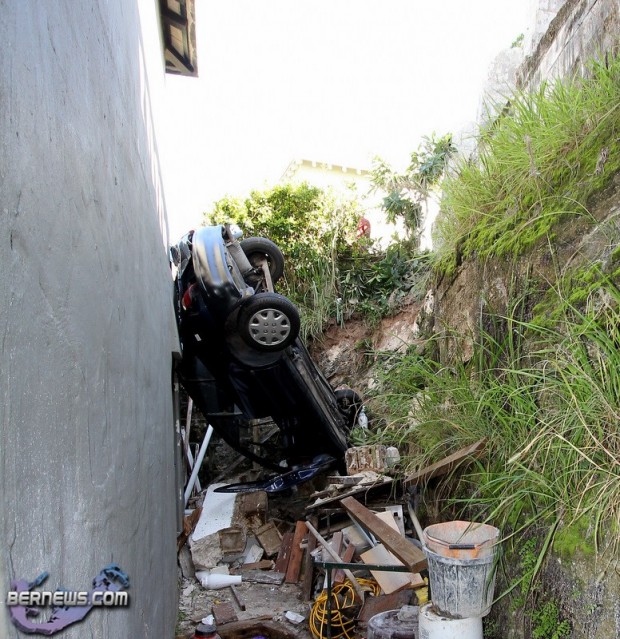 Residents said emergency personnel extracted the driver from the car before an ambulance transported her to hospital, and that the driver was talking to the emergency personnel at the scene. We will update with official information as able.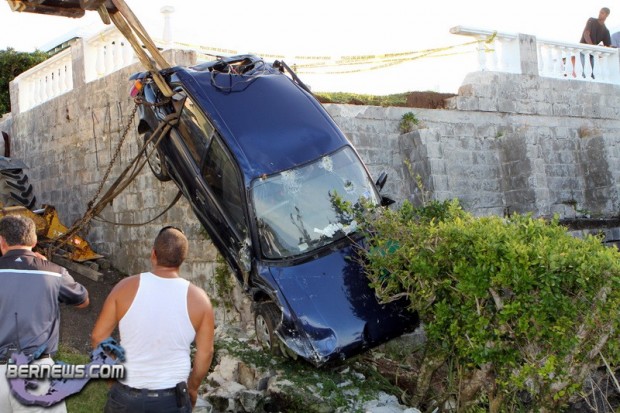 Update 5.18pm: A police spokesperson said, "Around 12 noon on Wednesday November 16th, Police responded to a report of a single vehicle collision on Tribe Road #6, Southampton near Horseshoe Road. It appears that a car was outside a Tribe Road #6 home when the vehicle collided with a wall and drove over an embankment."
"The driver, a 78 year old Southampton woman was temporarily trapped in the vehicle and rescued by Bermuda Fire and Rescue Service personnel. She was conveyed to KEMH via ambulance for medical assessment. The car was extensively damaged."
Update Nov 17, 7.40am: As of this morning, the driver is listed in stable condition on a general ward.
Read More About
Category: Accidents and fires, Accidents/Fires, All, Cars/Bikes, News, Photos, Videos