Despite the inclement weather two football games took place this afternoon [Dec.26] in wet and windy conditions at the Southampton Oval.
At 12pm Hamilton Parish took on Young Men Social Club in the Shield Semi-Final, with Hamilton Parish walking away with a 3 – 1 win. At 2pm the Devonshire Cougars went up against the Somerset Trojans in the Friendship Semi-Final, with the Trojans chalking up a 2 – 1 win after extra time.
Shield Semi-Final: Hamilton Parish 3 – Young Men Social Club 1
Kaiya Darrell gave Hamilton Parish the lead in the 13th minute, however Zeiko Lewis equalized for the Young Men Social Club in the 20th minute when he converted from the penalty spot. The teams went to the break with the score tied at 1 – 1.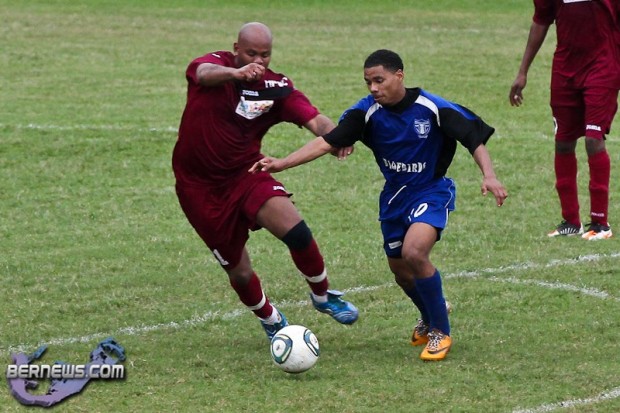 Shayne Hollis sparked life into Hamilton Parish when he scored to put them ahead 2 – 1 in the 47th minute, and then Donavan Thompson then put Hamilton Parish up 3 – 1 when he found the back of the net in the 65th minute.
As the rain started to fall in the latter stages of the game both teams created several chances however neither goalkeeper was beaten again at Hamilton Parish booked their ticket to the Shield Final on New Years Day at the National Sports Center.
Friendship Semi-Final: Devonshire Cougars 1 – Somerset Trojans 2 After Extra Time
This Friendship Semi-Final sprang into life early in the first half when Somerset Trojans striker Malachi Jones was brought down in the box by Devonshire Cougars defender Kijuan Franks.
Jones got around Franks who was attempting to see the out for a goal kick, but Jones kept the ball in and when he put his body in front of Franks he was brought down. Jones picked himself up and converted from the spot to give the Somerset Trojans the lead, which they would hold at the break.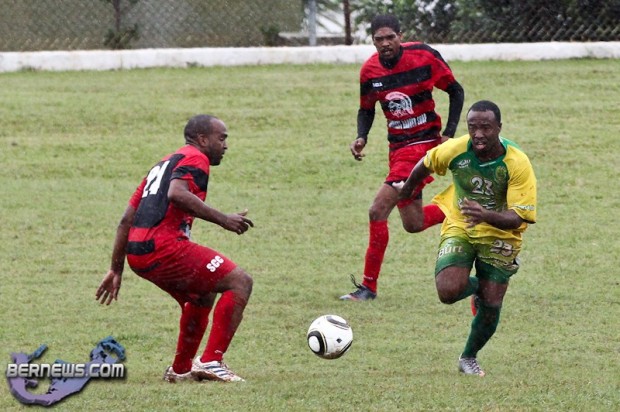 In the second half the scores were leveled after the Devonshire Cougars were awarded a penalty Tumaini Steede converted from the spot to put the teams at 1 – 1 with close to 25 minutes to play. Devonshire Cougars created several chances following the goal, however they could not find a way pass the Somerset Trojans goalkeeper, so with the teams still locked at 1 – 1 at the end of regulation time the game moved into extra time.
Five minutes into the first period of extra time Somerset Trojans substitute Jonathan Bean put them back in front, and with the Somerset Trojans able to hold off the late surge form the Devonshire Cougars, they advanced to the Friendship Trophy Final to be held on New Years Day at the National Sports Center.
Click to enlarge photos:
Read More About