[Updated with video] This afternoon [Dec.14] the Progressive Labour Party held a press conference and confirmed that former Senator and Bermuda Football Association president Neville Tyrrell will represent them in Constituency #11, Devonshire East at the next General Election.
Devonshire East is presently held by the One Bermuda Alliance's Bob Richards who won [as a United Bermuda Party candidate] with 51.74% of the vote against Mr. Tyrrell [402-375].
Mr. Tyrell has contested the constituency for the PLP at the last two elections.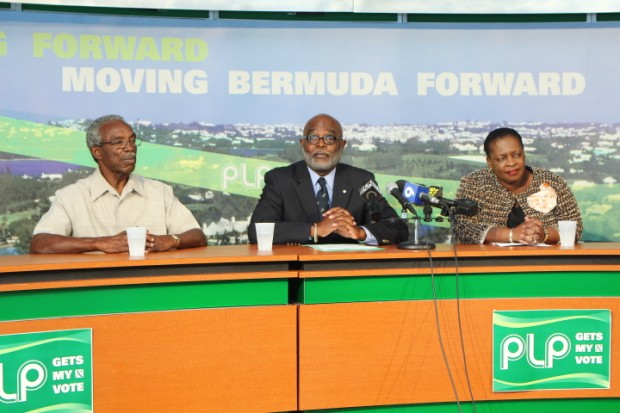 Mr. Tyrrell attended Central School [now Victor Scott], the Bermuda Technical Institute and the Cranfield School of Management in the UK.
His professional life began working at Cable & Wireless as a Trainee Telegraph and Coast Station Operator. He has been employed with Colonial Pension Services Ltd. since 1998 as a Pension Consultant.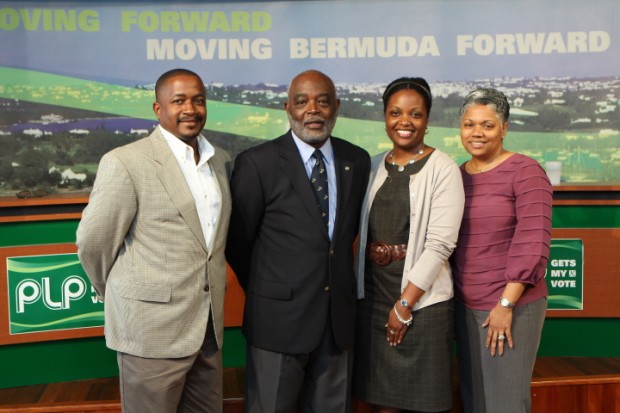 Mr. Tyrell has served on Government boards including the Race Relations Council, Sports Development Council, Education Planning Team, Bermuda Council for Drug Free Sports, CedarBridge Academy Board of Governors, Government Golf Courses Board of Trustees, and the Government's Sports Hosting Committee, Government Broadcasting Commission, Government Public Transportation Advisory Committee, Government GEHI Management Committee, the Government Taxi Authority Review Committee and others.
He was president of the Bermuda Football Association from 1996-2001, having held various Executive Member positions on the BFA council since 1971.
In 2004, Mr. Tyrrell was appointed to the Senate by then Premier Alex Scott, where he served until October 2006.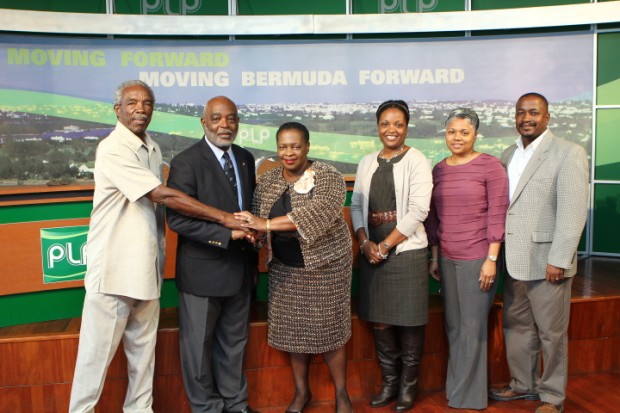 Update 2.00pm: Mr Tyrrell's full statement follows below:
Madame Premier, Party Members, Members of the Press, Ladies and Gentlemen, good afternoon.

Thank you for attending this press conference today. This is a very proud moment for me and my family, as I am honoured to have been selected by the Party machinery to again be the representative for Constituency 11, Devonshire East in the next General Election.

I feel ever so honoured because the talent level and pool of available persons within our Party to serve, is unlimited and it is far and wide. Premier I again thank you for the continued support you have shown in my ability to work with you and I hope to be an integral part of your Team.

Having had the privilege of running in Constituency 11 for the last two General Elections with varying results, the desire to run again is still high as I wish to be part of the PLP team who will help to prepare a better future for my grandchildren. However my main reason is that, I still believe in the principle vision that the PLP was founded on.

That is, to fight for social equality and justice for those persons less fortunate than one's self and for those without the voice and the ability to present their case. Translated, I know that the PLP has been and is the only Party that will ensure that this vision is a priority for governing all the people of Bermuda.

I am also a firm believer that to whom much is given, much is expected. Bermuda has been good to me and my family and therefore I see it as a responsibility for me to give back. Thus the opportunity to be of ultimate service to my fellow Bermudians comes as a natural to me.

I bring much experience to the table gained from life as a family man to Team Tyrrell, a hard worker who is not afraid to take on a challenge and my long involvement of service within the community. I do not have a Ph.D., but I do have several levels of plain old fashioned common sense and a good work ethic.

Thus it is those qualities which I offer to the people of Constituency 11 whose doors I have continually knocked on since prior to the general election of 2003. I thank the voters of C11 for their previous support by welcoming me into their homes and sharing their concerns and wishes for a better Devonshire East and the rest of Bermuda.

Their concerns and wishes are consistent with the other voters throughout Bermuda i.e. Education, Crime and the Economy. And with my desire in wanting to help to make improvements in those areas, I pledge to be their voice and servant, and to be the best Member of Parliament that I can be with the continued support of the voters of Constituency 11.

Thank You!
Update 10:00pm: Video of press conference
Read More About