Addressing the audience of PLP supporters at last night's [Oct 17] PLP event at the Ruth Seaton James auditorium, Premier Paula Cox indicated that the election would be held this year saying:  "This year – I'm giving you a hint now – this year in the coming election, the Progressive Labour Party will call on you to stand up for these values…"
Soundbite below:
The event was originally scheduled to be held on Tuesday night, however was cancelled due to the inclement weather from Hurricane Rafael. Speakers included Neville Tyrrell, Dale Butler, Dame Jennifer Smith, Deputy Leader Derrick Burgess and Premier Paula Cox.
Those present included Minister Kim Wilson, Minister Wayne Furbert, Minister Patrice Minors, Minister Michael Scott, Minister Glenn Blakeney, Minister Walter Roban, Minister Wayne Perinchief, MP Randy Horton, MP Elvin James, MP Terry Lister, MP Dennis Lister, MP Walter Lister, MP Neletha Butterfield, MP Lovitta Foggo, Sen. Diallo Rabain, Sen. Jonathan Smith, Sen. Vince Ingham, Sen. David Burt, PLP Chairman Anthony Santucci as well as PLP candidates John Gibbons, Scott Simmons, Dawn Simmons, Stephen Todd, Walton Brown, Vance Campbell, Marcus Jones, Lawrence Scott, and Pastor Leroy Bean.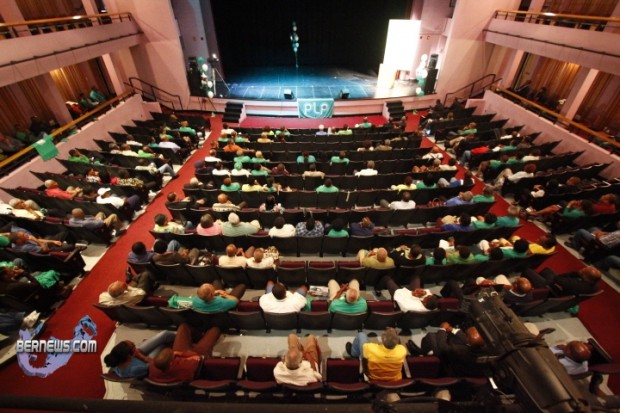 The evening started off with a prayer and a musical performance before Neville Tyrell — who is challenging the OBA's Bob Richards in Devonshire East — took the stage. His full speech is printed below and the video is here.
Mr Tyrell finished speaking at 7.30pm, and Dame Jennifer Smith — who will be challenged for her St George's seat by the OBA's Kenneth Bascome — was introduced as the next speaker. Her full speech is also printed below, and the video is here.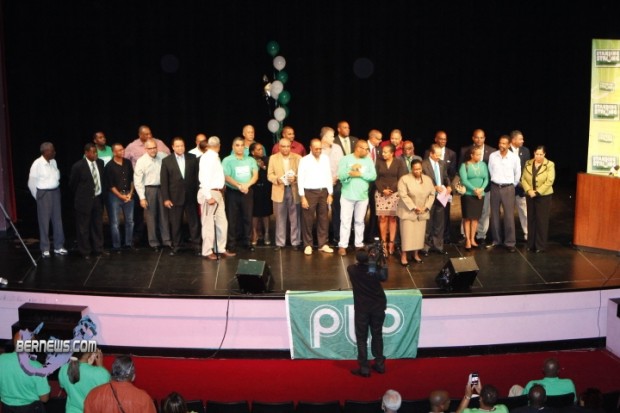 Dame Jennifer finished speaking at 7.50pm, and her speech was followed by a performance by TROIKA which concluded at 8pm. Dale Butler — who will be challenged by the OBA's Mark Pettingill in Warwick North East — then addressed the crowd.
He finished at 8.15pm, and Deputy Premier Derrick Burgess took the stage. Mr Burgess will be running against the OBA's Peter Barrett in Hamilton East. He spoke about various topics with a focus on investments the Government has made, finishing at 8.40pm.
45-minute video of Premier Cox's full speech:
Toni Robinson entertained the audience with a solo rendition before Derrick Burgess came back to the stage to introduce Premier Paula Cox, who started speaking at 8.50pm and finished at 9.35pm.
She covered a number of topics, with the most notable being the "hint" that the election will be this year as well as saying the Government is committed to moving away from conscription.
Neville Tyrrell's full speech follows below:
Good Evening – Thank you Master of Ceremonies for that kind introduction.

Wasn't that homegrown talent just awesome! Lets give them another round of applause.

Premier, Deputy Leader, Members of the Upper and Lower Houses, Party Chairman, Members of the Executive, Delegates, Party Members, Supporters and Friends.

48 hours ago, I sat in the Auditorium of the Dalton E. Tucker School and had the privilege of listening to a Team of confident and young rising stars from within this Party. That performance should certainly put paid to the lie often stated that our members are a group of sheep being lead in their thinking. This Progressive Labour Party is a great Party made up of different individuals with each bringing their own strengths, adding further depth and variety to an already all star cast. The PLP has a great future, we are in good hands. To my fellow candidates, Makai, John, Sen. Diallo and Lawrence, well done Monday evening, I wish you all the best in adding MP after your last names.

It is indeed an honour for me this evening to be included on such a high powered panel of speakers, whom I have heard described as the elder statespersons of the Party. I would simply say that these are persons whom I have much respect for and who have paid their dues to this great Progressive Labour Party. I wish to thank the Executive for the opportunity given to me to join them in speaking this evening. I also wish to thank the Executive for the bold move of again taking the Conference to the Public. The public want to hear from us as leaders.

I did not have much of a clue as to what I wanted to share with you this evening, until I consulted with the Chief Operations Officer of the Tyrrell family, who without taking a breath, gave me a smile and said 'just tell them sincerely why you continue to support the Party,' so that's what I'm here to do tonight. Thank you to the Tyrrell COO.

Keeping within the theme for this year's Conference 'Standing Strong for Bermudians', I searched for what I thought would be a relevant quotation to get me started, and found the following in 1st Corinthians chapter 16 verse 13: 'Be on your guard, stand firm in the faith, be men of courage, be strong.'

With that Scripture verse as my preamble, I will address several areas that will highlight the many accomplishments this Government has achieved, show how we have positively touched the lives of thousands of Bermudians by having these programmes in place. They are planned actions that strengthens our case as to why we should continue as the Government.

My question to you tonight is; what will you be doing to ensure that we are successful at the next general election? I ask that question, for it appears that too many of us have now started to believe in our own hype – that we cannot lose the Government for at least another 30 years. Well, we are not even half way through that timeframe and our opponents seem more power hungry than ever before. So I say to you, now is the time for all good men (and women) to come to the aid of the Party, for when the going gets tough, the tough get going!

I as a Candidate, will continue working every day on the doorstep – as that is where the election will be won – I am telling all the residents of Constituency #11 that there is a clear choice between myself and Bob Richards. Bob Richards has repeatedly told us that it "has to be all about austerity." Austerity means, deep and radical cuts to benefits, jobs, social programmes, healthcare and much more. But, while he says it has to be all about austerity, he doesn't tell us what he's going to cut! He and his party are offering no ideas, and no solutions!

While they argue for austerity, we stand strong for investment in our people. It's during the worst global economic crisis since the Great Depression when our people need our investment the most. Investment that will protect jobs, expand the social safety net with programmes like FutureCare and DayCare. Investment, that will train our young people to access the jobs of tomorrow, and support for our businesses through programmes like the Economic Empowerment Zones (EEZ).

One of the main and compelling reasons I continue to support the PLP is our historical, and continued effort in standing Strong for Bermudians. The faithful believers in this Party will already know that the lead anthem and theme of this Election Campaign – 'Standing strong for Bermudians' is not something new to us, because our founding members came together expressly for that purpose. In 1963 they saw no need to wait any longer for someone else to come along and make the required changes. Their efforts during the 1960's reminded me of quotations I read by President Obama – these were made prior to him becoming President, "Change will not come if we wait for some other person or some other time. We are the ones we have been waiting for. We are the change that we seek. If you are walking down the right path and you are willing to keep walking, eventually you will make progress." Our founding members came together at a time when it was most unpopular to go against the norms of the day. I am sure they had many objectors, but they stood strong and set the pace for us to follow. I still believe in, and support the principle vision on which the PLP was founded. That is, to fight for social equality and justice for those persons less fortunate than one's self, and for those persons without the voice and the ability to present their own case. I am confident that the Progressive Labour Party having stood up for what is right in the past, is still the only Party that will ensure that this vision of standing strong for Bermudians is not just lip service, but a priority for governing all the people of Bermuda.

The combined opposition as we now know them, and the talk show naysayers, will have us believe that a PLP Government has been the sole cause of all manner of things negative that have taken place in Bermuda since 1998. They have not, and will not give us any credit for the introduction of the many services that have enhanced the lives of our people. Programmes that have provide opportunities, ranging from, assisting the youth with operations like MIRRORS, to initiatives that assist our seasoned and treasured seniors with the implementation of FutureCare. I took the time to read through the vast list of accomplishments achieved by our PLP Government over the last 14 years, and very briefly highlight some of the initiatives, such as:

Preparation of a National Health Plan
New Hospital Master Plan which included Building a New Hospital
The Daycare programme which makes Child Care more affordable
Improvements with the EEZ in North Hamilton and the creation of EEZ's in the East and West ends of the Island
Creation of Job Corp for the Youth
Establishment of the Hustle Truck
Reduced class sizes in early Primary years
The Building of 298 new affordable Housing Units throughout the Island
The recent upgrade to the Purvis Park and Sylvia Richardson Senior Residences

Ladies and Gentlemen, I have only highlighted a dozen of the several hundred initiatives and services undertaken by our Government, accomplishments that we should be proud of. We should be shouting these accomplishments from the roof tops. All of these activities have been designed to provide opportunities, and to create fairness for all Bermudians. We need to celebrate this Government for considering programmes that stand strong for Bermudians. This PLP government has addressed real issues, that have helped to make major differences in the lives of many of our people.

An area that seldom gets its deserved recognition, is this Government's tireless efforts in improving Public Education. Contrary to popular belief it is an area that has been given serious attention by our Government. The belief that Private Education is best is really a myth. Whether people provide Private or Public Education for their children, one of the many strengths of the success of Public Education, really comes from each child having strong parental support. Our Government encourages this parental support and has given further support to Education by introducing such things as the reduction of class sizes in Primary 1 to Primary 3, introduction of the Cambridge Curriculum to increase student standards and vast improvement in its increases in the financial value of Government scholarships for further education. Our Public schools have improved, thanks to a government that truly cares for and values public education, making it available to all.

One of the cost cutting measures, or should I say austerity measures that the combined opposition seem to be hinting at, is a downsizing of the Public and Civil Service personnel. They say that they are not going to replace Public servants who retire. Think on this for a second. If a teacher retires, that means no replacement teacher. If a police officer retires, that means no replacement police officer. What if 20 teachers retire? Or 20 police officers? If the OBA is to follow what they have said, that will mean a rise in class sizes. It also means fewer policemen on the beat. This would be a disaster for Bermuda!

In order for Government to provide the proper level of Public services this country deserves, and has become accustomed to, this has to be matched with the adequate number of talented personnel to provide and maintain that good service. Any downsizing of the Public or Civil Service personnel should be a last resort for many obvious reasons, not to mention that doing so would not be acceptable to most people and stakeholders. Of course we should, and we will continue to trim the fat in government, and cut what is unnecessary where available. But, we should not make cuts if it means that the education of our children and the safety of our people will be compromised.

The revival of the economy is not just a government problem to resolve, everyone has to play their part in getting the economy back on track. This is not the time for Government, private sector or us individually to completely draw in the purse-strings. Many people, again being led by the combined opposition, are looking towards Government solely to be the job creators and create opportunities to pull us out of the downturn in the economy. Yes, that is not an unlikely expectation, for governments should provide opportunities for people to find work and opportunities to improve their lifestyles. However, it is my opinion that with the correct Government policies in place, private enterprise should bear a major part of the heavy lifting in order to see improvement in the economy.

I therefore state again, we should all be thinking of ways to help to improve the economy.

Let me move on to some of our canvassing experiences out in the field. My canvassing area Devonshire East C11, is very broad based in many ways, with a mixture of blue and white collar workers, black, white, Portuguese, young and old, rich and not so rich. It is representative of the wider Bermuda. With the exception to date of one door being slammed in our face whilst canvassing, most people have been very receptive to our visits. This encouraging reception has been amongst our known supporters and also those perceived as non-supporters.

People are mostly concerned about us getting the economy back on track, jobs, and yes, whether we have spent wisely. After carefully listening to them, we have outlined the Government's positions and responded adequately to all of those concerns. Overall, it has mainly been about reassuring them of our ability to govern for a further 5 years.

On the doorstep, I feel the voter's anxiety and pain. These are difficult times for us in Bermuda and many countries all around the world. I understand the voter's desire for a quick fix. But, the truth is, there is no magic solution that is going to solve all our problems immediately. It is going to take time, and hard work by us as supporters, together with a government committed to standing strong for Bermudians in these tough economic times.

During our canvassing, we have come across a small portion of younger voters and some not so young, who have expressed their intent not to vote as they don't see it making a difference to them. This concern has hit me hard, for several reasons. Most especially, when the record will show how close some of the races in several of the constituencies where in 2007. On regaining my composure after hearing persons saying that they do not intend to vote, I remind them of the struggles of our forefathers who fought so long and hard for the right to vote, and how their involvement now, could make a big impact on the end result at the next election. I cannot express it any clearer, getting persons out to vote is going to be absolutely critical in this next election and each and every one of us will need to be committed to this cause.

I have shared that canvassing experience with you not for personal reasons, but to show you that as a Party we have much work to do to make sure our supporters come out to the polls, we also have to make sure that the swing voter knows that a return of a Progressive Labour Party Government means a return of a group of caring people, who understand the needs of our community and who are committed to standing strong for Bermudians.

Ladies and Gentlemen, this upcoming election will be special to me, for it is my desire to be an integral team player for this progressive, dynamic and forward thinking Party. Of course the election is not about me, or any of the candidates that you see running for the PLP. This is about our future. This is about our children's future. We cannot put their future in the hands of a party that has provided no ideas and no solutions. The stakes are just too high and we cannot turn back now. I look forward to sharing in the responsibility that winning the next election will entail.

In bringing this to a close, I will share one last quote with you, this one from President John F. Kennedy – "One person can make a difference, and everyone should try." I therefore encourage you to speak often and highly of the accomplishments of this Government, and most of all, stand strong during this period leading up to the next election.

Ladies and Gentlemen, I thank you for your time given to listening to me and for your continued personal support. I again encourage you to spread the word of our accomplishments and good work, do this within each of your constituencies so that it excites the voter to not only come out and vote, but to stand strong and vote for the Progressive Labour Party.

PLP all the way, all the way PLP!

Thank you!
-
Dame Jennifer Smith's full speech follows below:
There is a magazine ad, produced by FILA, which honours NBA all-star spokesman Grant Hill.

I found this ad, mesmerizing because of the text – which reads:

"This year Grant Hill led his team in scoring, rebounding, assists and steals, led his team back into the playoffs, led the league in All-Star balloting, earned a place on the Olympic team, didn't punch an official, didn't demand a contract extension, was never tardy, and was always cordial, didn't dump his high school friends, listened to his mother, remembered the doorman at Christmas, made his bed daily, promised to take shorter showers in an effort to conserve water, got plenty of sleep, didn't hurt a fly, organised his thoughts, chose paper over plastic, appeared fully clothed in interviews, improved his vocabulary, counted his blessings, said nice things about his teammates, fed coins into other people's parking meters, kept his thermostat at sixty-eight, practised what he preached, actually paid attention to the stewardess's emergency flight instructions, donated a kidney – and vowed to do better next year."

The ad ended with these words:

"There'll always be areas of your life that need improvement. No one is perfect."

[Wow!]

Good Evening…..

Madam Party Leader – Premier Paula Cox, members of the Party Executive, Ministers of Government, Members of Parliament, Candidates, and the foundation of all that we are and all that we do – Members, Supporters and Friends.

I began tonight with the story of a man who is doing everything right – but – who still is not perfect.

You know – not only people have this problem.

Businesses, charities, churches, unions and political parties have the same problem.

We are not perfect either. And, when you look for perfection – all you see are the shortcomings. We need to look for the best – and we will find it.

While canvassing recently, I encountered a constituent who was quite proud of the fact that he was not a registered voter. His attitude changed slightly when reminded about his responsibility to his children, and as a citizen.

I know that tonight, I do not have to impress on you how important it is to vote.

I know that tonight, because of your presence, that I am primarily speaking to people who are not only registered voters, but many who are members of Bermuda's oldest Political Party.

Members of a Party founded by the workers of this country – many of them your parents and grandparents – at a time when many of them could not even vote, because they did not own the requisite piece of land.

Next year will mark this Party's 50th Anniversary!

Members – we stand on 50 years of history; 50 years of service to the community; 50 years of commitment to change for the better and to making this country work for the benefit of all Bermudians.

We stand on the shoulders of giants – from Arnold Francis and Walter Robinson to the dynamic duo of Browne-Evans and Wade; through to Smith, Scott, Brown and Cox. We always have – and we always will – Stand Strong for Bermudians!

We stand strong on the shoulders of Bermudians who were not afraid to speak truth to a system that ignored the majority of the population; we stand strong on the shoulders of Bermudians who embraced all men (and women) as family.

Bermuda is (rightfully) proud of its Parliamentary history – dating back to 1620 and we often brag about this fact. But most celebrations of this historical fact omit one important thing: that when Bermuda's parliamentary history began my ancestors were slaves.

Not only could they not vote. They weren't even considered full human beings.

Yes, that was then and slavery in Bermuda was abolished in 1834; but universal adult suffrage, enabling everyone over the age of 21 to vote whether they owned land or not, did not happen until 1966. [And eighteen year olds didn't get the right to vote until 1989].

I mention these things, because some young people truly do not understand why most adults value the vote. They do not know – or appreciate – how voting and the work of this great political party – has improved their lives.

We have not told them the stories of people who rioted and striked – fought and died, for the right to vote – not in the United States – but right here in Bermuda. The right to vote was a hard won victory – won by those who stood strong for their rights as full citizens.

So, today, I find it more than strange that there are people calling for students to be able to vote by post – while at the same time telling other Bermudians not to vote as a means to express their displeasure.

Strange – just a little strange. I'm not going to say duplicitous. I just find it strange.

There is a dual message here that is just not honest.

Either the vote is most important – or it is something to be tossed aside at will. Or… maybe this is just another tactic to make sure that some people are not a part of the decision-making process.

I know that some of you here tonight are old enough to have attended school before 1968. I know that I am not the only one who remembers going to school in a segregated Bermuda. I graduated 3 years before desegregation and ran for a seat in Parliament (the UBP stronghold of St. George's North) just 4 years after desegregation.

Now – I'm not trying to demonstrate how old I am – but I remember when the PLP's call for free hospitalisation, free education, workmen's compensation, and old age pensions were derided as "socialism" by the UBP.

Bermuda was governed for decades in a manner that looked good on the outside, while ignoring the fundamentals on the inside – no benefits for the people; scrimping on taking care of the infrastructure; endangering people and the economy as buildings, bridges and infrastructures grew old.

Introducing, when it became politically expedient, these same PLP 'socialist' ideas. Suddenly, there was free hospitalisation, free education, workmen's compensation and old age pensions. These are just a few of the PLP's achievements – we did not institute them but, make no mistake, it was because of the PLP that they were implemented.

There is not time tonight to tell you everything that the PLP has done – plus a list of our accomplishments would be so long it would be boring. If you want to know the full impact of the Progressive Labour Party on Bermuda – read our Platforms from 1964 to 1998; then read the ones from 2003 to 2007. In Opposition or in power, we stood strong and exerted our influence.

Encourage others to learn what the PLP has done, go to the Bermuda Library and read the Bermuda Recorder. Ask the elders in your families or neighbourhood to tell you what they remember of those who stood strong.

Then ask them which Party has consistently demonstrated – throughout its 49 years of existence – that the wellbeing and best interest of Bermudians is their sole reason for being.

I use the word "Bermudians" deliberately – because from its very inception, the Progressive Labour Party rejected the politics of race.

During a time of segregation, those white members bold enough to join – Dorothy Thompson, Dr. Barbara Ball and David Allen to name those most visible – were welcomed as family.

We dreamed then – as we dream now – of a Bermuda built using the resources of every member of this community.

The hope you felt in 1998 was not phony. We did not expect miracles. We knew it would be a long, hard, brutal grind against the forces and interests that had ruled Bermuda since its inception.

We never promised a mistake-free government or an easy path. We told you that the challenges we faced are real. They are serious and they are many. We warned you that we could not easily overcome the challenges we faced in a short span of time.

If you are weary now – don't give up. If you are serious about real change, understand that real change meets real resistance. In fact, you know that the change you have instituted is real when the resistance is so strong.

We have confronted the worst global economic crisis since the great depression; and Bermuda, along with other countries around the world, has suffered setbacks.

There are those who want you to believe that Bermuda's economic woes are entirely the fault of the PLP Government – you should just ignore the fact that the whole world is suffering.

Come on – this is not the time for small minds who think that their partisan political agenda should take precedence over the global reality.

Thank God for the internet. We have an educated population. Bermudians are as knowledgeable as anyone. They know that there is a world-wide recession.

Bermudians read and they travel and we know that even in Britain, the mother-country, more than 5 million adults of working age – nearly 15 per cent of the workforce – are dependent on benefits.

We know about Greece and Spain and the impact on the EU – and we know that Bermuda is not the only country experiencing a recession.

Yes, there have been challenges but there have also been successes.

It has been tough, but we're used to weathering storms. We're Bermudians; we've dealt with a few crises and maneuvered around unexpected events. We have been tested and we've been tried – and we have survived.

We're still Standing Strong.

We know, from our experience with hurricanes, that in the face of adversity – Bermudians come together as one. The adversity facing this island at this time – means that this is the time for that same spirit of community and caring to come alive.

We are making progress slowly, but progress, in terms of economic recovery; and our spending has been invested in making this country better.

We spent – not because we like roads or buildings – but because it was necessary to repair and in some cases, renew our infrastructure. We spent to provide jobs, assure health and achieve success and stability for the people of this country.

Bermuda's economic success did not "trickle down" to help those who started off at a disadvantage from the start. Addressing that gap has been one of the main goals of our Government.

This is why we do not just create Economic Empowerment Zones – we offer classes in entrepreneurism. We help small businesses to set up their books. We create templates to ensure a level playing field for all and we focus on education for all.

We continue to relentlessly and aggressively tackle crime while addressing the long simmering conditions that helped to create a culture of criminality among some of our citizens.

Come out to Education's next Town Hall Meeting on November 1st and learn about the success of your children in our public schools.

Do not be deceived into thinking that the changes which the PLP Government has introduced (and there have been many) mean that we can now return to a UBP/OBA government.

Whatever challenges we face – we will continue to progress and prosper, if we Stand Strong for Bermudians and work together in support of our country.

We need the loyalty of all our sons and daughters – native-born, or adopted.

Now is the time for all who live on this island to be part of the solution.

We need to regain the power our ancestors harnessed – the power of one – joined to one another in unity. There is no 'they' in the PLP – it is we – and we must each do our part.

We know the power that unity brings – we know the power of one.

I am only one, but I am one

I cannot do everything,

But I can do something,

What I can do, I ought to do

And what I ought to do

By the grace of God,

I will

Each one of you – go out and convince another one to vote solidly PLP.

Thank you.
-
Update 12.14pm: You can watch the full videos of all the speeches here.
Read More About