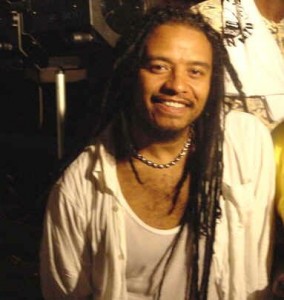 British reggae superstar Maxi Priest, a fixture on the Bermuda entertainment scene since the 1990s, will be lending his voice to the upcoming John Lennon tribute CD being released to mark the former Beatle's creative resurgence on the island.
Maxi Priest [pictured] is one of several international acts with strong Bermuda ties who has been recruited to sing on the CD, set to be released in June when a sculpture commemorating Mr. Lennon's local sojourn is unveiled at the Masterworks Museum of Bermuda Art in the Botanical Gardens.
Producer Tony Brannon and the Ride The Wave charitable foundation are keeping a lid on some of the other international stars who have agreed to assist the project by contributing songs Mr. Lennon wrote either as a Beatles or during his solo career. Mr. Brannon said: "Let's just put it this way — there are some very big surprises in store. We'll be releasing further information asto the talent involved — world-class talent, I might add — as the release date approaches."
Mr. Brannon said Maxi Priest is currently deciding on what song he wants to record for the CD, suggesting he may well opt for "Imagine", Mr. Lennon's 1971 anthem dedicated to global peace and brotherly love.
International Bermudian performers including folk-rocker Heather Nova and Broadway stars Nicholas Christopher and Rebecca Faulkenberry will also be contributing songs to the CD along with other local talent selected from a recent audition held at Chewstick.
Mr. Lennon spent six weeks in Bermuda in the summer of 1980, writing or polishing all of the material contained on what proved to be the last album released during his lifetime, "Double Fantasy."
That record took its name from a flower he saw at the Botanical Gardens which he decided provided the perfect metaphor for his relationship with wife Yoko Ono, who also contributed songs to the album.
Murdered by a deranged fan outside his New York apartment building in December, 1980, other songs Mr. Lennon wrote while renting a home in "Fairylands" were included on the posthumously released "Milk & Honey."
Christened the "King of Lovers Rock" by his fans, Maxi Priest remains one of the most internationally popular reggae singers since Bob Marley. His transatlantic chart-toppers include "Close to You", "Wild World" and a duet with Beres Hammond "How Can We Ease the Pain?"
Maxi Priest Performing "Wild World" In New York In 2001
Read More About
Category: All, Entertainment, Music