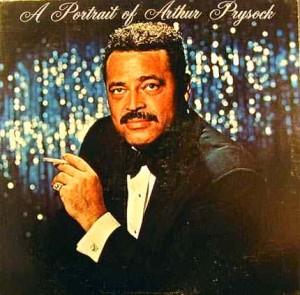 Veteran jazz and R&B singer Arthur Prysock died in Bermuda in 1997 after suffering an aneurysm at the age of 73.
Mr. Prysock, who toured internationally for nearly 40 years, stopped in Bermuda almost every year in the 1960s and '70s before he semi-retired here in the early '90s.
A popular but low-profile figure in Bermuda, Mr. Prysock belonged to a school of jazz-and-soul balladeers that included Billy Eckstine [his greatest influence], Johnny Hartman and Lou Rawls. His heavy, deep voice projected a calm, reassuring virility.
A popular nightclub singer for five decades, Mr. Prysock enjoyed more success as a concert and club performer — in the early days often touring with his brother, the tenor saxophonist Red Prysock — than as a recording artist.
Nevertheless, he had a number of medium-size hits, recorded many albums and was a two-time Grammy nominee.
He started singing in his hometown of Spartanburg, South Carolina, and later joined the popular Buddy Johnson Band in 1944 in Hartford, Connecticut. His hits from that union included "They All Say I'm The Biggest Fool", "Because" and "I Wonder Where Our Love Has Gone".
By the time he broke out on his own in 1962, he was known nationally for his mastery of rhythm and blues, jazz and country music. His first solo hit was "I Worry About You" in 1962.
Known for his smooth bass-baritone voice, he sang the famous Lowenbrau beer commercial, urging listeners to "Let it be Lowenbrau."
In the '70s, he scored a surprise disco hit with "When Love Is New"
His long singing career culminated in 1987 when he received a Grammy nomination for best jazz performance by a duo or group for the jazz standard "Teach Me Tonight" with jazz singer Betty Joplin.
The following year he was nominated for another Grammy in the best jazz vocal performance category for his rendition of "This Guy's In Love With You", a tune which had previously been recorded by Dionne Warwick as "This Girl's In Love With You".
Arthur Prysock Singing "Take Me In Your Arms", 1966:
Read More About
Category: All, Entertainment, History, Music