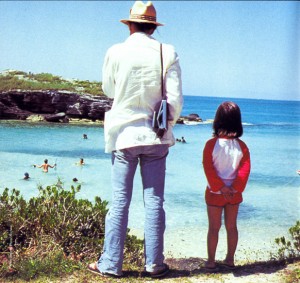 As the song said, it was just like starting over when Bermuda famously inspired what were to be John Lennon's last works. And now Bermudian artists will have the opportunity to return the compliment with a new tribute CD of the former Beatle's material.
The CD — being produced by Ride the Wave charitable group — is to be released in conjunction with the unveiling of a memorial to the singer/songwriter/peace activist at the Masterworks Museum of Bermuda Art in the Botanical Gardens next summer.
Mr. Lennon spent several weeks in Bermuda in 1980 after sailing here from the US, saying the island allowed him to reconnect with his creative muse after a five-year spell of writer's block [he is pictured here with son Sean while visiting the island].
Renting a home in Fairylands, Mr. Lennon composed or polished the songs which would appear on the final album released during his lifetime, "Double Fantasy". His locally recorded home demos of the Bermuda songs –- some of them also included on the posthumously released "Milk & Honey" [1984] and the "Beatles Anthology" [1995] — have been uploaded on the Internet.
"Double Fantasy" took its name from a freesia Mr. Lennon and his young son Sean saw at the Botanical Gardens during their stay in Bermuda. The musician thought the flower's name was a perfect metaphor for his personal and creative relationship with wife Yoko Ono.
The album was recorded at New York's Hit Factory studio in August, 1980 after Mr. Lennon had returned to the US from Bermuda.
"[John] was in charge from that very first moment," recalled renowned Bermudian session drummer Andy Newmark, who by happenstance was recruited by Mr. Lennon to play on the album of Bermuda material. "There was not a lapse of ten minutes between when he came in and when things got rolling.
Bermudian Drummer Andy Newmark And The Other "Double Fantasy" Musicians Photographed During The August, 1980 Recording Sessions. Mr. Newmark [Second From Left, Back Row] Sits Next To John Lennon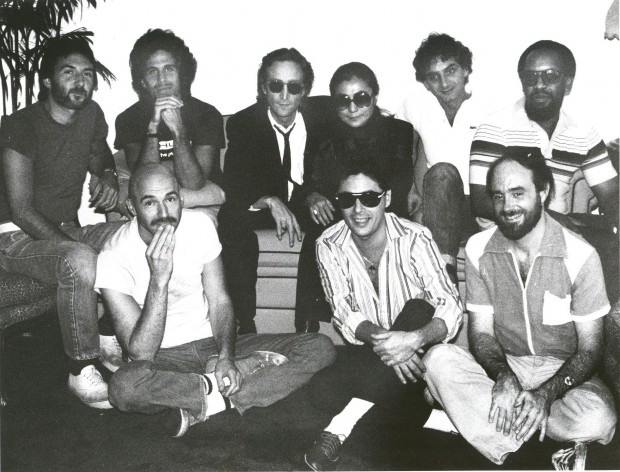 "John was so blunt … He didn't tiptoe around with the way he spoke to people but it wasn't offensive or nasty — it worked. His usual comment to me was 'Andy, forget all the fancy s**t. I want to get this in three takes, play like Ringo'. All he had to say was 'play like Ringo' and it completely focussed me on how to approach making his record."
Mr. Lennon was shot to death by a deranged fan outside his New York City apartment house in December, 1980 — just weeks after "Double Fantasy" was released.
"We want to feature Bermudians recording their arrangements of Lennon songs," said Ride The Wave organiser Tony Brannon. "Besides the local Bermuda artists, we feel that international artists, who have performed in Bermuda, can be a part of this tribute, and to that end we have asked International artists to participate.
"There are so many great artists who appeared at the 40 Thieves Club in Bermuda from the 1960s through the '80s and other Bermuda venues that could participate. Stay tuned — we have some great surprises!"
During his stay here in the summer of 1980, Mr. Lennon spent one evening at the old 40 Thieves Club on Front Street listening to music and socialising with Bermudians and Bermuda residents.
"Indeed, he had a long chat with two Bermuda journalists who ribbed him about the fact he'd taken five years off from the music scene to be a 'house-husband' and father in New York City," said Mr. Brannon. "The gist of that conversation resulted in him going straight home to his rented house in Fairylands, taking out his guitar and finishing the long-stalled song 'Watching the Wheels' which appeared on 'Double Fantasy'."
John Lennon Demo Of "Watching The Wheels" Recorded In Bermuda, Summer, 1980
"The John Lennon Bermuda tribute CD and the Masterworks memorial will be big events for Bermuda, and we believe that we can take this way past our little island to make this a global event," continued Mr. Brannon. " The benefits for Bermuda will certainly be huge in terms of exposure and the visitors to Bermuda will surely make a visit to the Botanical Gardens and the Masterworks Museum to see the John Lennon memorial a must.
"The Lennon tribute in New York City — Strawberry Fields in Central Park — has seen the attendance grow year over year. Strawberry Fields officially opened on October 9, 1985, the 45th anniversary of John Lennon's birth.
"People visit the New York memorial year-round. But on the date of his birthday — as well as on the anniversary of John Lennon's death — thousands of visitors and fans from all over the globe flock to Strawberry Fields to pay homage to this Beatles' legacy."
"John Lennon: Behind The Music" Report On The Inspiration The Musician Found In Bermuda
Mr. Brannon and Tom Butterfield of Masterworks recently told the John Lennon Bermuda story to more than four million listeners in the UK when eight British Radio stations were in Bermuda broadcasting live from the Fairmont Southampton resort.
"There is no doubt the John Lennon Tribute in Bermuda will be an important place to visit for anyone living or taking a holiday here," said Mr. Brannon.
"I have asked Andy Newmark  to try and get the other session players from 'Double Fantasy' to record a track for the Bermuda tribute CD that could go global both as a song and a video," said Mr. Brannon. "Personally, I think the message of 'All You Need Is Love' — one of the most famous numbers John wrote as a member of the Beatles — would resonate everywhere.
"It certainly sends a message that we in Bermuda need to be reminded of at this time."
Japanese TV Report On John Lennon And Bermuda's Double Fantasy Flower
Mr. Brannon has asked all Bermuda musicians/performers interested in participating in the Lennon tribute CD to contact him at 441- 334-8669 or 441-293-2917. He can be reached at email at tony@bermuda.com
"Only John Lennon numbers he actually sang can be chosen — so if it is a Beatles song sung by another Beatle, that does not qualify," he said. "Try looking for a song from his solo career.
"We are also going to be having a competition for Bermuda singers — and those who are selected will be recorded included on one of Lennon's iconic songs.
"Artists will be asked to perform 'Imagine'. You can either send in your demo tape to Michael Freisenbruch at Freisenbruch Meyer, 75 Front Street, Hamilton or email an existing MP3 of your voice singing any song you have recorded.
"Those selected will be asked to perform 'Imagine' live at the Chewstick Foundation in December. The panel will select the winners who we will record for inclusion on the Lennon Tribute CD Tribute."
Masterworks and Ride The Wave Officials Discuss The Lennon Bermuda Memorial & Tribute CD
Read More About
Category: All, Entertainment, History, News