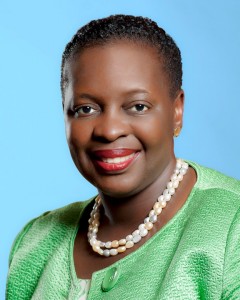 In her Budget Statement this morning [Feb. 24], Premier and Finance Minister Paula Cox announced she would be rolling back the 10 percent hike in duty introduced at the end of last year.
In a bid to stimulate the island's stagnant economy, in November the Premier [pictured] formally introduced measures in Parliament increasing the rate of duty payable on accompanied goods imported for personal use from 25 percent to 35 percent.
But today the Premier said while most tax rates would not be changed in the coming fiscal year, there will be an amendment to the customs tariff for personal importation of goods at Bermuda's ports of entry.
"At the L.F. Wade Airport, the duty rate will be restored to a fixed rate of 25 percent but the allowance will be raised to $200 per person with effect from April 1, 2012," she said. "The duty rate for personal importation of goods will be harmonised at all ports of entry at the fixed rate of 25 per cent."
Last year's duty increase at the airport was intended to encourage Bermuda residents to spend more money in the local retail economy.
"These measures are intended to discourage personal spending abroad, and to help steer expenditure into the local retail sector, thereby boosting sales and keeping approximately 4,000 Bermudians employed in local stores,"  the Premier said at the time.
Last month the Bermuda Chamber of Commerce's Retail Division called for "an across the board, standardized duty rate of 25%" regardless of how they are imported. At the airport the rate was 35% however via other methods of import, the rates vary from 5% to 33.5%.
Mailboxes Unlimited president Stephen Thomson had spoken out against additional duty increases, urging residents to contact theirMPs, call talk shows or take other actions as a duty hike would be "destructive to both residents and Bermuda as a whole."
The Premier said at the time "because of the inconsistent duty rates across methods of import, Government efforts to support local business are not as effective as intended. Therefore the Government will examine changes to duty rates for personal imports."
A statement issued by the Chamber said, "The Chamber's Retail Division is on record as having reached out to the Ministry of Finance, and in particular the Premier, in 2010 and again in 2011, for tax relief and other fiscal support to keep their doors open.
"Since that time the Retail Division of The Chamber of Commerce has through its membership, continued to lobby Government for an across the board, standardized duty rate of 25% for the importation of all personal goods, whether they are imported through the airport, the post office, a local courier, shipping agent or consolidator."
Chamber executive vice-president Joanne MacPhee elaborated: "The Chamber's Retail Division is supportive of a move to standardize the import duty charged on personal goods.
"Bermuda's retail industry is in crisis and like many of our divisions they do need Government's support if they are to survive in this harsh economic climate. The EEZ and newly branded BEDC are alongside others, doing their part to support local commerce, and we applaud them for that.
"We all know there are less people in Bermuda now then there was three years ago, and those who are here are spending less and shopping more online. This is all having a very direct and negative impact on local commerce, so yes something has to give if local retailers are to survive."
"What that might look like has yet to be agreed. Perhaps this is the time to step back and look at the bigger picture and consider whether or not there is a viable alternative to taxation through import duties," concluded Ms MacPhee.
View all our coverage of the 2012/13 Budget here.
Read More About