Following the delivery of the 2012 Budget by Premier and Finance Minister Paula Cox this morning [Feb.24], Deloitte released a 'Budget Snapshot', which follows in full below, and is available here in PDF form. The 'Snapshot' says "Build One Another Further Debt Increases", and included the graph below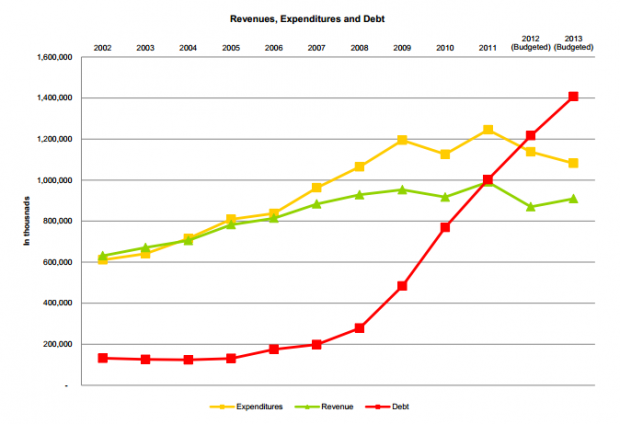 Budget Deficit
Revised estimated deficit for 2012 is $267.6 million, with an original estimate of $146.6 million.Actual deficit for 2011 was $254.4 million, with an original estimate of $143.5 million and a revised estimate of $223.8 million. Estimated deficit for 2013 is $172.1 million.
Public Debt
The statutory ceiling will be adjusted to $1.45 billion from $1.25 billion. The graph below excludes government guarantees for Butterfield Bank, Bermuda Hospital Board and unfunded government pension obligations. Public Bond issuance in 2012 to finance deficit, which includes debt service costs.
Payroll Taxes
Remains at 14%. Salary cap remains $750,000. The payroll tax concessions for the hotel, restaurant and retail sectors have been extended.
Pension
The Occupational Pension Act will be amended to allow for a voluntary suspension of the combined employee and employer contributions of 10% for one year beginning in 2012.
Duty
Fixed rate of 25% at airport, allowance raised to $200 per person. Duty harmonized at all ports of entry at 25%.
All Other Taxes and Fees
Government fees will generally increase by 3%.
Read More About