Retired American police sergeant Robert Burdewick bought a souvenir while on a work-related trip to Bermuda 50 years ago. The souvenir was a policeman figurine wearing Bermuda shorts and an English helmet.
That first figurine, which he put on display in his New York home, started what's become the "Robert G. Burdewick Police Statue Collection" of 2,000 strong, a large part of which is on display at the National Armed Services & Law Enforcement Memorial Museum [NASLEMM] in Dunedin, Florida.
Number 2,000, he told a Dunedin on-line news outlet, was recently purchased through eBay.com from a collector in Texas.
Robert Burdewick with the Bermuda figurine which launched his collection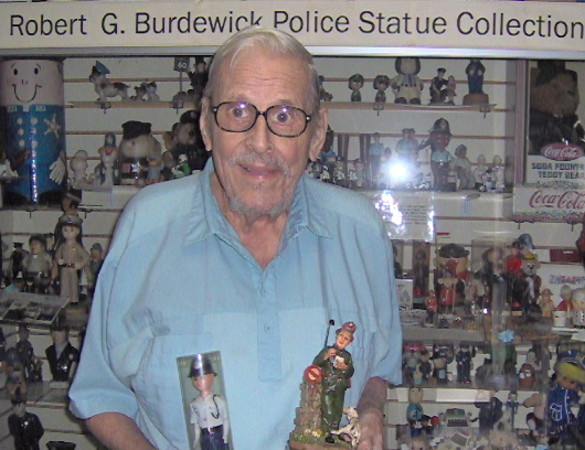 Mr. Burdewick, 79, retired from the police force in Nassau County, New York, in 1979, and then moved with his family to Dunedin. He eventually became involved with the museum's board of directors, where he now gives guided tours.
Mr. Burdewick often entertains guests with stories of some of the 1,200 police-themed figurines on display at the museum.
Those figurines and statuettes come from 22 countries including Fiji and Kenya, and range in size from miniature [three-eighths of an inch] to life-size mannequin [6-foot-4-inches].
Mr. Burdewick has 800 more figurines in his Paloma Lane home. They can be found in every room, he said, except his bathroom.
He continues to collect police-themed action figures and statues, and believes his collection may be the largest in the world.
"Who knows where it will end … I'm still going strong," he wrote.
Read More About
Category: All