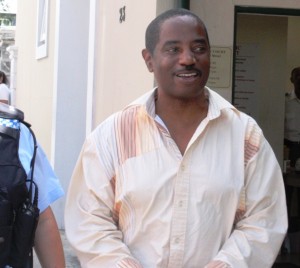 A Montana man has admitted to bilking investors out of nearly $2 million in a scheme which involved Bermudian Andre Curtis [pictured], pleading guilty to multiple charges of conspiracy and fraud in US District Court yesterday [Mar.7].
Dan Two Feathers is one of three men charged by a US federal grand jury with running the complicated "Ponzi" scheme in 2008. Federal prosecutors have also charged Shawn Swor of Missoula and Terrance Paulin.
Government investigators say Mr. Swor was a "hard money lender" who met Mr. Paulin, and then Mr. Two Feathers, as he was exploring ways to make "bridge loans" by selling securities to create investment opportunities.
Prosecutors say Mr. Two Feathers claimed to know several ways to generate cash flow through selling securities in Europe and the trio started DTF Consulting Group, based in Missoula.
During his appearance in court Wednesday, Mr. Two Feathers admitted the group had "devised an investment scheme" to "convince investors to give up their money".
He said the DTF would tell investors they would get "100%" of their $50,000 investment plus additional profits that would "continue for a year."
Two Feathers told Judge Donald Molloy the group had "enticed investors" to send them a total of $800,000.
But the scheme didn't end there. Prosecutors say Mr. Two Feathers also worked angles on the side that netted him an additional $1.3-million, using connections and accounts in Bermuda and Switzerland.
Mr. Curtis, 48, was jailed for 15 months in Bermuda for his role in the scheme.
He admitted operating Harvest Investment Holdings Ltd. without a licence from March, 2007 to December, 2008 when he appeared in Supreme Court last year.
A second charge of making misleading statements was dropped by prosecutors.
Under terms of the plea deal, Mr. Two Feathers admitted guilt to four counts of conspiracy, investment fraud, receipt of stolen property and money laundering.
He faces as much as 20-years in prison and could be ordered to pay hundreds of thousands of dollars in restitution when he's sentenced in June.
Read More About
Category: All, Court Reports, Crime