[Updated with video] Nandi Davis and Scott Stewart will contest the next General Election for the Opposition, the One Bermuda Alliance announced this afternoon [Mar.8].
Nandi Davis will represent the party in Constituency #2 St. George's West, while Scott Stewart will stand for the OBA in Constituency #15 Pembroke East.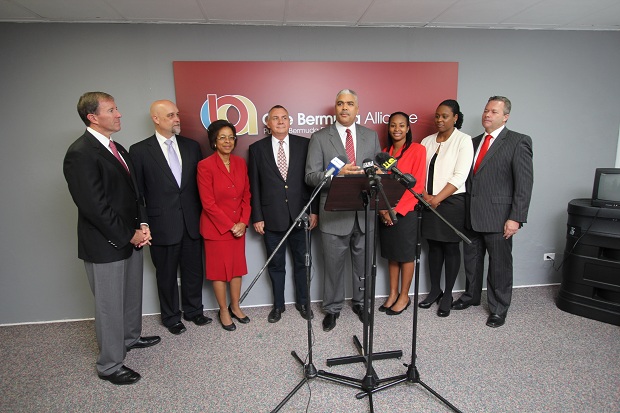 St. George's West is presently held by the UBP's Kim Swan, who won 50.95% of the vote vs PLP's Dean Foggo [457-440] in 2007. Mr Swan — one of the last two remaining UBP MPs — has confirmed he will contest the seat again under the UBP's banner. Although he has not been officially rolled out, the PLP has selected John Gibbons as their candidate for St. George's West.
Pembroke East, where Scott Stewart will stand, is presently held by the PLP's Walter Roban, who won 81.63% of the vote over the UBP's Sean Pitcher [631-142] in 2007. The PLP has not yet officially confirmed if Mr Roban will stand again.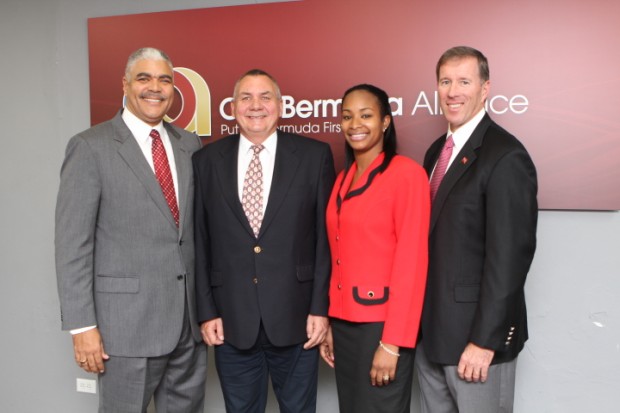 Nandi Davis has lived in Hamilton Parish all her life. The daughter of Deborah and Dwayne Brown, the 25-year-old was educated at Warwick Academy and Saltus Grammar School in Bermuda, then went to CompuCollege in Halifax, Nova Scotia, where she got certified in business and computer applications, and also received a certificate in supervisory management.
She works full time, and is also enrolled in the Bermuda College in the evening, as a PACE student, a year away from winning an Association of Chartered Certified Accountants (ACCA) designation.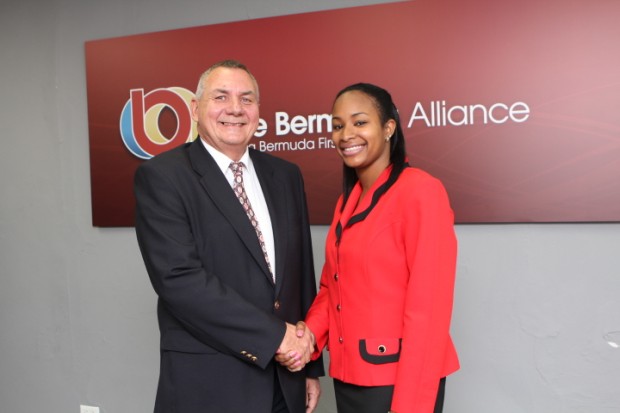 She is a volunteer worker for the Kathmandu Kids Society and the La Leche League, and is currently employed as a PA to the managing director of AMS Ltd, a fund administration company.
Scott Stewart has worked as the manager of Sun Control Company, and served as the Chairman of the Manufacturing Division of the Chamber of Commerce. He now works as owner/manager of Summerside Guest apartments and serves as Chairman of the shadow Tourism Board.
His early employment was with "The Group", Bermuda's first outreach drug programme sponsored by the Government in the early 1970s. He then spent some years working at the Department of Youth and Sports assisting with the summer day camp programme, Boy Scouts, Youth Parliament and other youth groups. He served on the Treatment of Offenders Board for 14 years and more recently as a teacher at Westgate.
Ms Davis' full statement follows below:
Good day to all of you.

My name is Nandi Davis, and I am honoured to represent the One Bermuda Alliance in the next general election in St George's West, Constituency 2.

I haven't been involved in politics before, but I feel compelled to get involved now for two reasons. The Bermuda I knew when I was growing up is disappearing quickly.

The things that made us call this Paradise and Another World are disappearing so quickly that if we don't do something about it now, they will disappear completely, leaving behind just another struggling little place scarred by crime and ignorance and poverty.

I have a beautiful two year old boy, and there is nothing that focuses your mind so completely as having a child. I want my son to be happy, well-educated and successful, and to grow up in a place without the danger and the pressures that push so many young people towards wasting their lives in crime and idleness.

I have something to offer the people of this country, I have something to offer you. I know first-hand how important education is to being able to live a life that is personally fulfilling, and that also allows people to contribute to the community they live in.

My parents, knew the value of education, and made sure I got the best they could give me. I went to Warwick Academy and Saltus Grammar School, and then I went to CompuCollege in Halifax, Nova Scotia, where I got a degree in business and computer applications, and a certificate in supervisory management.

I now work in international business, in a small fund administration company. I am earning my ACCA accounting designation at the Bermuda College.

I was a runner in my early years. I travelled around the world with Pacers Track Club to compete. I am a volunteer worker for the Kathmandu Kids Society and La Leche League.

I think there is a link between our failing education system and the increase in violent crime in Bermuda. Kids today feel lost. They don't know what they should do, and there's no one to tell them…to guide them to the opportunities that are there. So they opt out and get caught up in trouble.

There should be more of those opportunities for them, to find fulfilling careers providing a god standard of living.

I want to see the discipline returned in education and a shift for education to provide technical and character skills. Young people need goals; they need to be trained for the world of opportunities out there.

This will open the horizons back up for them, and it will do us all a power of good in the process. It took us twenty years to get where we are but if we start working today we can turn things around for my son, all Bermuda's children and future children.

My focus will be on the association with the quality of education and crime. The same kids getting in trouble at the middle school level are the same young men being incarcerated later.

Politics should be about helping people, and I want you Bermuda to understand that you have a voice. As a young mother I am that voice.

I was instantly thrilled when I heard about the One Bermuda Alliance and their strong interest in the younger generation. This party is interested in change…in moving Bermuda away from the angry, accusatory brand of politics we have now, towards a more rational and thoughtful and caring kind of government.

I am running to represent constituency 2 St George's west. I am tired of talking and getting involved is a way to help move Bermuda in general, and my constituents in particular, to that kind of government, and hopefully take Bermuda into the wonderful future – the country we called Paradise.
-
Mr Stewart's full statement follows below:
I am very pleased to be the One Bermuda Alliance candidate for Pembroke East, Constituency 15. I am eager to meet with the residents and to listen to their concerns and their thoughts on making Bermuda better for them and their children.

Bermuda is at a crossroads and it is time for all of us to make a difference. This is why I am here today. I have been offered that opportunity by the One Bermuda Alliance – a party whose principles I believe in with all my heart: Responsibility, Integrity, Transparency, Fairness, Inclusiveness and Service.

I stand here to offer a choice to the people of Pembroke East. The constituency has the power to bring change to Bermuda. People can send the message that they no longer want business as usual, that they no longer want more of the same, and that their vote must not be taken for granted.

For some, change will be difficult because they have supported one team most of their lives. But times change, circumstances change; and there is the enduring ever-present hope that tomorrow can be better.

I have lived in Pembroke all my life and know my neighbours to be hardworking, warm people with a great sense of community. They want an economy that makes it possible for them to build careers, grow their businesses and earn enough money to feed, clothe and educate their families, pay their bills and have something left to enrich their lives.

These are the hopes and expectations of everyday people, and it is the responsibility of the people elected to govern to do what it takes to meet those hope and expectations.

Today, those hopes and expectations are being thwarted. We have become a debtor nation for the first time in my lifetime, and probably in the history of our Island. We have a Government that is lost in its troubles and still taking care of itself first. No longer are they a people-centred government; no longer are they about uplifting people.

The OBA's recent Budget Reply lays down the sound goals and objectives for the Island – all to uplift the people.

I believe it is the path we need to follow: We need to grow the economy to grow jobs and financial security for Bermudians. We need to reduce the debt to reduce our vulnerability to international debt holders.

We need to gain control of government spending to start living again within our means. We need to provide our young people with opportunity so they are invested in the future, not marginalized and alienated from it as so many are today. And finally, we need to provide seniors with the necessities to live the remainder of their lives in dignity.

Financial responsibility, opportunity, compassion and common sense, these are the measures of a great society and that is what the OBA will bring to the governance of Bermuda.

I believe in my colleagues in the One Bermuda Alliance. They are a team dedicated to building a new and better Bermuda. Craig Cannonier is a strong leader who has a unifying vision for the country. We have a strong economic team led by Bob Richards. They can put Bermuda back on the road of broad success.

I am proud to stand with my OBA team mates, particularly those who have come today to support my endeavors.

My vision is their vision, and theirs is mine. We see:

A Bermuda uplifted by the way we practice politics
A Bermuda governed with integrity and fairness, transparency and accountability
A Bermuda in which all of its people, regardless of background, can express themselves freely, and
A Bermuda in which our innate sense of fairness gives dignity to each and every one of us.

I believe the people of Pembroke East share this vision.

And I believe they deserve a representative who will take their needs and concerns to Parliament for action.

I believe I can be that person, and I believe the collective wisdom of the constituency has the power to bring the much-needed change we need for Bermuda.

I will work hard to win the hearts and minds of my constituents, and I promise to stand up and serve their interests in all things, at all times, not matter what.

Thank you.
-
Read More About