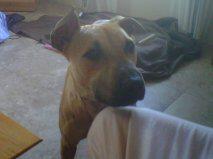 [Updated:] Teresa Perozzi says Bella was reunited with her family late last night [Apr.4]. "Our girl is home!!!," she said. "Thanks everyone for the help. She is really banged up and sore but happy to be back with her family."
The lady is a champ — but that doesn't mean she doesn't require a helping hand from time to time.
Bermuda's World Boxing Association [WBA] middleweight female champion Teresa Perozzi is appealing to residents to help her find her missing dog, Bella.
"Our dog Bella [pictured] went missing in the T.N. Tatem/Railway Trail area," said Ms Perozzi. "[She] was hit by a car on Middle Road on Tuesday [Apr. 3] then ran up the Railway behind the school. She is a mix breed pit, sand brown, about seven months and has a red collar on no name tag, very friendly."
Bella was reportedly spotted at around 7 a.m. this morning in the Southcote/Ord Road area.
Anyone with information about Bella can call Ms Perozzi at 505-0399.
Read More About
Category: All