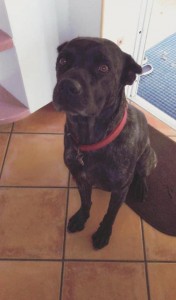 The owner of a missing dog is asking for the public's help in locating him, with a reward being offered for his safe return.
"Our dog, Rico, has been missing since Tuesday night around 7:00pm. He was seen leaving Tankfield Lane, crossing over to Lover's Lane. He was lightly hit by a car but was seen running after. He was then spotted on Trimmingham Road, [supposedly hit again] near the bus stop/where they sell fish, around 7:15pm," she said.
"It was only until yesterday [Sunday] that he was reportedly seen near 'Horizons' on South Shore Road around 4:30pm.
"There have been no other sightings since then. Please help us find our family dog. We miss him and want him back. We are offering a cash reward to the person that can find him."
If you have any information that could help us locate where he is, please contact Stephanie Shrubb at 333-2675.

Read More About
Category: All