[Updated with photos/videos] At sometime before noon today [May 31] a 17-foot whale was discovered on a small beach area in an enclosure in St George's located in the vicinity of the Meyer Boat Slip.
Local boaters spotted the whale at approximately 11.30am and called in the report, although at first they were unsure what it was [whale, dolphin etc].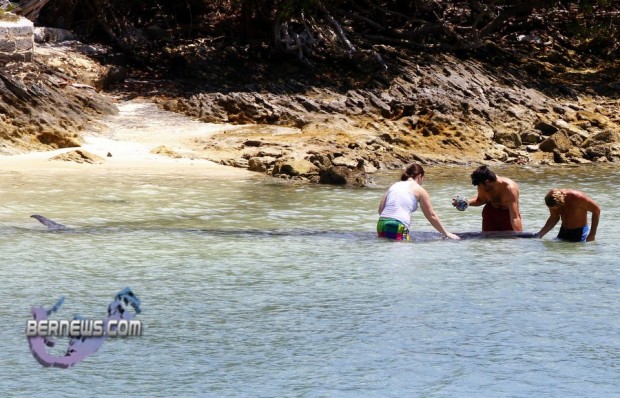 There were three boats on scene at around noon, with at least one being a Fisheries Patrol boat. Earlier in the afternoon it appeared the whale was alive, and personnel on the boats were seen stroking the whale.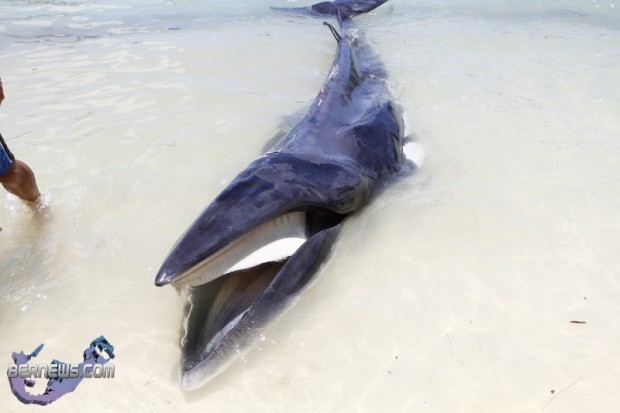 The whale was measured at 17 foot and 7 inches long, with a tail span of 4 foot 3 inches, and died on the scene. A necropsy [animal autopsy] took place at the scene at approximately 1pm.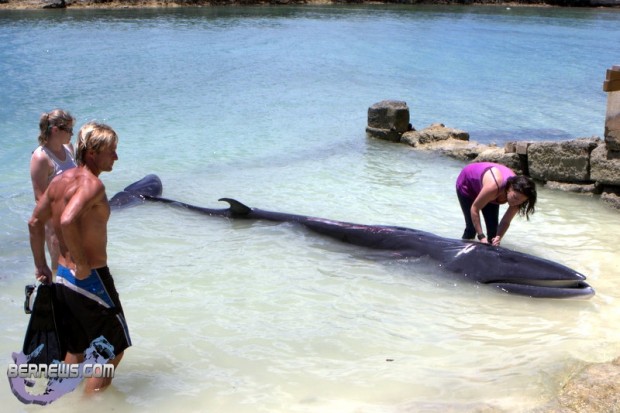 Personnel on scene assisting included Fisheries Patrol, Aquarium staff, Dr Ian Walker, and whale researcher and documentarian Andrew Stevenson. Speaking at the scene before the necropsy, Mr Stevenson said they believe it was a young fin or minke whale, and was alive when it was first found.
The experts are still on the scene, and as of 2.55pm look at though they are getting ready to remove the whale. We will update with additional information as able.
Update 3.32pm: The necropsy is complete, and the whale was tied to a Fisheries Patrol boat and was taken out to sea.
Update 3.56pm: The video of Principle Curator of the Aquarium Dr Ian Walker speaking at the scene is below. He said there was nothing "grossly wrong with those organs, the spleen had a few things that were interesting that we will send off for a specialist to look at.
"But other than that on the inside the animal seemed normal, there is nothing here to suggest a reason why the animal beached. The cause of death is definitive, the animal drowned and inhaled water," said Dr Walker.
He also said "an animal this size" was likely traveling with a group of whales, but "obviously they are not going to stick around once the animal beaches."
Update 6.31pm: A 6-minute video of the necropsy being performed is here on Youtube. The video is graphic, viewer discretion is advised. The necropsy was performed by staff of the Bermuda Aquarium, Museum & Zoo, Department of Conservation Services within the Ministry of Public Works. Officials also confirmed that it was a Minke whale.
Click to enlarge photos:
Read More About
Category: #Animal, All, Environment, Environment, Marine, News, Photos