Bermuda Cancer and Health Centre today [May 25] announces new services in the detection and diagnosis of breast cancer. With the addition of a premium ultrasound system, the Centre is able to capture not only extraordinary images displayed in real-time, but also to perform ultrasound-guided breast biopsies and cyst drainage, all within the comfort of its newly dedicated biopsy suite.
Dr. David Green, Clinical Director of Bermuda Cancer and Health Centre and a specialist in Breast Radiology on the island, is performing the new procedures. "This is the next logical step for us," said Dr. Green who is a member of the –British Society of Breast Radiology (BSBR) and has more than 22 years of experience as a Breast Radiologist and Clinical Director.
"It's more effective to manage every part of a patient's diagnosis and we are thrilled to be able to offer this for our patients who may initially come to us for a routine mammogram."
Alexander Green, Dr. David Green, Andrew Green with new ultrasound: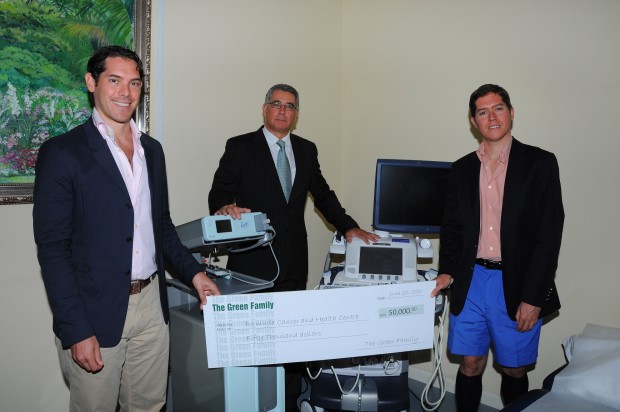 Lumps or abnormalities in the breast are often detected by physical examination, mammography or other imaging studies. It is not always possible to tell from these imaging tests whether a growth is benign or cancerous.
A breast biopsy is performed to remove a small tissue sample from a suspicious area in the breast, which are then examined under a microscope to determine a diagnosis.
An ultrasound-guided breast biopsy is non-surgical and the most minimally invasive biopsy method in which ultrasound imaging is used to help guide the breast specialist radiologists' instruments to the site of the abnormal growth.
Once the biopsy is complete, Bermuda Cancer and Health Centre sends the tissue samples to a team of breast specialist pathologists at Brigham and Women's Hospital in Boston and within three to five days will have full results to provide to the patients primary care physician, general or family practitioner.
"During the diagnostics stage, we want to make our patients' experience as stress-free as possible," said Dr. Green. "Waiting for results can make anyone anxious, and now we are able to speed up that process significantly while also providing full diagnostic services within the comfortable surroundings of the Centre."
Andrew Green, Dr. David Green, Alexander Green: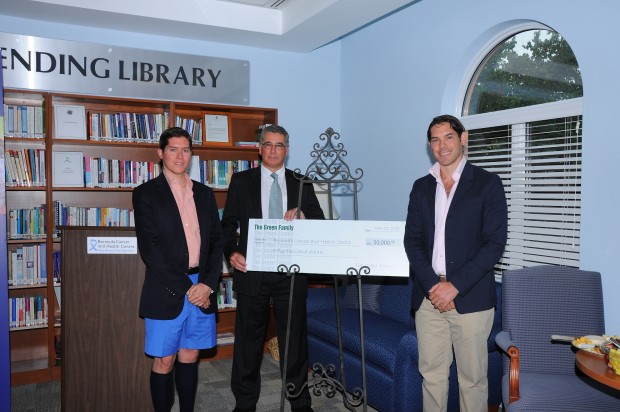 The new biopsy suite at Bermuda Cancer and Health Centre is named after Mary-Jean Mitchell Green who died of breast cancer in 1990 at the age of 38 three years after being diagnosed with cancer.
Her husband Peter and two sons Andrew and Alexander donated $50,000 to Bermuda Cancer and Health Centre in 2010 to launch the fundraising campaign toward the purchase of the Centre's premium ultrasound and biopsy equipment.
"Unveiling these new services for our patients is particularly special for us because of the special connection to the late Mary-Jean Mitchell Green," said Tara Soares, Executive Director of Bermuda Cancer and Health Centre.
"With breast cancer, early detection is key, and we are so grateful to the Green family for their continued support and generosity to Bermuda Cancer and Health Centre, which has enabled us to purchase technology to improve breast cancer detection and, potentially, save a life."
After the press conference this morning, staff at the Bermuda Cancer and Health Centre gave the Green family a tour of the facility. Immediately after, they made an additional donation of $20,000 for which the Centre is extremely appreciative.
For more information on the services at Bermuda Cancer and Health Centre, please call 441-236-1001 or visit chc.bm.
Read More About
Category: All