[Updated with video] The men of Kappa Alpha Psi walked away with the trophy after a 2-0 victory over the Alpha Phi Alpha at Bernards Park this evening [June 22]. Money raised through the event went to the Continental Society, ABC Valencia football, and St David's Country Cricket Club youth programme.
Scoring for the Kappas were Jay Donawa and Troy Harvey, while the Alphas team included Government DCI Acting Director Dwayne Caines, his brother Digicel CEO Wayne Caines, former Hogges football player Lloyd Holder and educator/Boulevard president Dr Lou Matthews. One of the Kappas noted that last year they won 1-0, this year 2-0, so next year they are hoping for a 3-0 victory.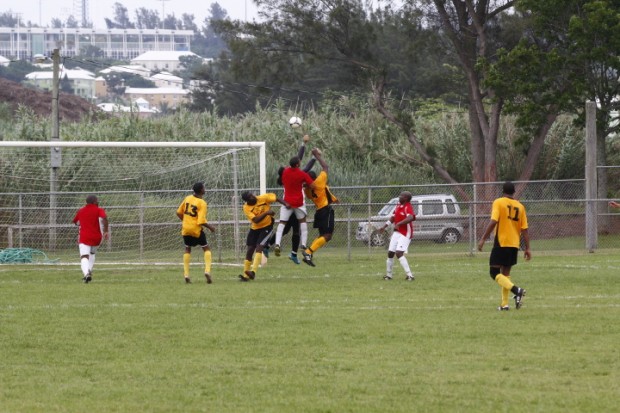 The Kappa Alpha Psi Fraternity and Alpha Phi Alpha Fraternity hosted the second Annual Bascome/Lowe Charity Football Classic, with the aim of the tournament to bring these two organizations that are committed to the development of the youth — especially young males — together for a friendly football match to raise money for charity. The Classic is named in honor of the late Minister Nelson Bascome [Kappa] and Rev. Doctor Wilbur Lowe [Alpha].
Read More About