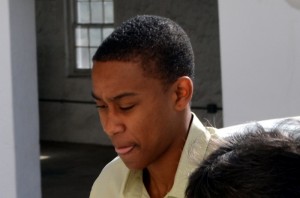 [Updated - Found not guilty] Jury deliberations are getting underway this afternoon [June 22]  in the Gariko Benjamin trial.
The 21-year-old man is alleged to have opened fire at a Mount Hill home then stolen a motocross bike and led police on a high speed chase to Somerset.
The Court heard that Mr Benjamin rode into the Mount Hill/Overview Lane area of Pembroke around 10:30am on January 25th 2012 where it is alleged he fired shots at the home of Sadune and Jahfari Raynor.
After the shooting, the defendant is alleged to have stolen a blue motocross bike and speed away in a westerly direction with the police in pursuit; doing speeds exceeding 100km/h and also doing "wheelies".
He was apprehended in Sandys, and two police officers testified they saw Mr Benjamin pat his side and say: "You guys think that you can what you like because you've got a gun. You're not the only ones with a gun."
He was arrested, and after he was handcuffed, the Court heard Mr Benjamin broke into tears and said, "Call my Daddy."
Gunshot residue was found on the bike, which the defendant — who is represented by Charles Richardson — said he had allowed a friend to stash on the property. Mr Benjamin denies the charges which include unlawful possession of a firearm; unlawful discharge of a firearm; taking a motorcycle without the owner's permission and threatening behaviour to Police.
Update 6.55pm: Mr Benjamin has been found not guilty on all counts. The Judge told him he is free to go.
Read More About
Category: All, Court Reports, Crime, News