Mary Prince, a Bermudian slave, was inducted as Bermuda's 2012 National Hero on June 16th and on July 25th, in advance of the Emancipation Day holiday, the Bermuda National Library (BNL) will host an open discussion called: "Why Mary Prince Matters".
The lecture will take place from 6.00 p.m. – 8.00 p.m. at the library and will be facilitated by Dr. Kim Dismont Robinson, Folklife Officer at the Department of Community and Cultural Affairs.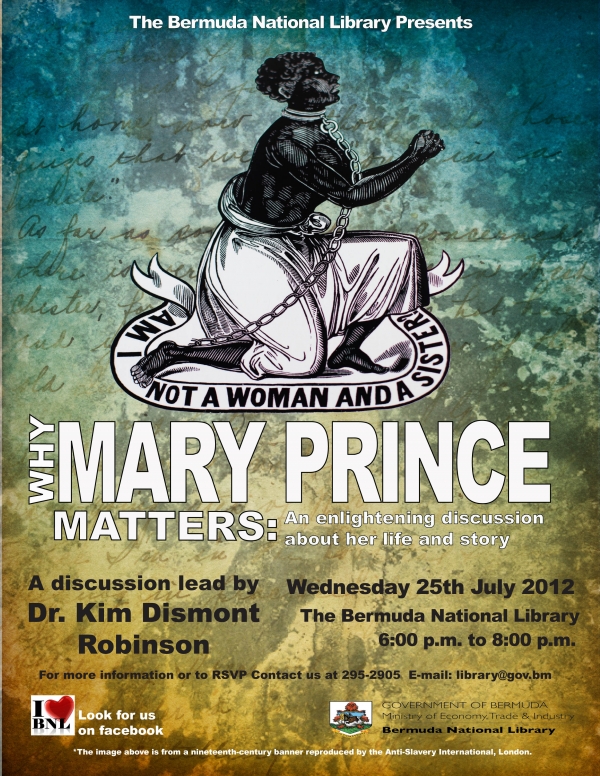 Joanne Brangman Head Librarian said, "The discussion promises to be a very powerful and enlightening one about Mary Prince's life. Unfortunately the full weight of her contribution is not understood by many Bermudians.
"Next Wednesday's lecture event will aim to expand upon and dissect the legacy of Mary Prince, and we are encouraging residents to come and listen to the story about her life and hopefully leave the event feeling inspired and motivated."
At Mary Prince's induction ceremony last month, attendees were reminded that Mary Prince was the first black woman to publish a book about the brutality of slavery. In fact, her book, The History of Mary Prince, was significant because it was considered instrumental in helping to dismantle slavery in Bermuda and the Caribbean.
Read More About
Category: All