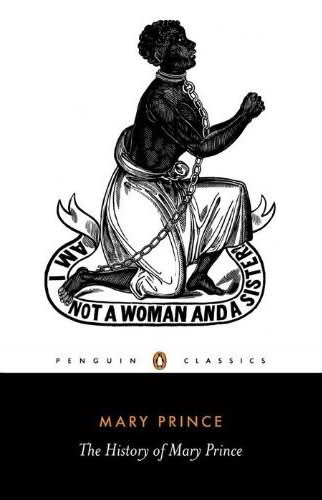 The legacy of Bermudian slave Mary Prince — whose historic 1831 book [pictured] has lost none of its power to either shock or to inspire understanding and reconciliation among peoples — will be celebrated on the island next week.
In 2007, the United Nations designated  March 25 as the International Day of Remembrance of the Victims of Slavery and the Transatlantic Slave Trade and since 2008 they have commemorated this day with global activities.
For the first time this day will be commemorated in Bermuda as the directors of the African Diaspora Heritage Trail Foundation [ADHT] Bermuda Foundation will collaborate with the United Nations in marking this day.
"We have, with the support of a number of organisations in Bermuda, set up a variety of activities during the week of  March 25-31 to commemorate this day," said ADHT chairman Maxine Esdaille.
The United Nations stated that "this day honours the lives of those who died as a result of slavery or experienced the horrors of the transatlantic slave trade. It is also an occasion to raise awareness about the dangers of racism and prejudice."
Each year there is a theme and the theme for 2012 is "Honouring the Heroes, Resistors and Survivors."
For this year's inaugural events, the ADHT will make particular reference to Bermudian Mary Prince, who was the embodiement of a hero, a resistor and a survivor.
She was the first black woman to have a book, which detailed her life as a slave, published in the UK.
American poet Maya Angelou introduces readings from Mary Prince's narrative
Born in Brackish Pond [now known as Devonshire Marsh] in Bermuda in 1788, Mary Prince's parents were both slaves: her father owned by Frances and David Trimmingham and her mother owned by Charles Myners.
When Charles Myners died in 1788, Mary and her mother were sold to Captain Darrell, and when she was 12, Ms Prince was sold to Captain John Ingham and his wife Mary Ingham, who lived in Spanish Point.
On being sold Mary says:
I was soon surrounded by strange men, who examined and handled me in the same manner that a butcher would a calf or a lamb he was about to purchase, and who talked about my shape and size in like words – as if I could no more understand their meaning than the dumb beasts.

I was then put up for sale. The bidding commenced at a few pounds, and gradually rose to fifty seven, when I was knocked down to the highest bidder; and the people who stood by said that I had fetched a great sum for so young a slave.
She was sold to again and sent to Grand Turks in 1806 to work extracting salt from the oceans, an industry Bermudians had used seasonally for a century.
Mary Prince returned to Bermuda in 1810, and was sold to John Wood in 1818 and sent to Antigua to be a domestic slave.
In December 1826, she married Daniel James, a former slave who had bought his freedom and worked as a carpenter. She was severely beaten by her master for this "transgression".
In 1828, her owner John Wood took her as a servant to London. Although slavery was illegal in Britain, she had no means to support herself and couldn't return to her husband without being re-enslaved. She took shelter with a church, and was eventually hired by Thomas Pringle, an abolitionist writer and Secretary to the Anti-Slavery Society.
Mary Prince arranged for her narrative to be transcribed by Susanna Strickland and it was published in 1831.
Her book "The History of Mary Prince, a West Indian Slave, Related by Herself" caused a sensation, going through several printings in a matter of months.
The slave narrative scandalised Britain, aroused popular indignation and added major impetus to the abolitionist movement.
Some readers even found her account of slave life too brutal to be believable.
Her abolitionist employer in London wrote to one sceptical group, the Birmingham Society for Relief of Negro Slaves, confirming she had inspected Mary and the "whole of the back part of her body is distinctively scarred … chequered with the vestiges of severe floggings."
Last June Premier Paula Cox participated in a celebratory reception at the School of Oriental and African Studies at the University of London, and unveiled a commemorative bronze plaque honouring the life of Mary Prince,who lived near the site.
Premier Paula Cox & Bermudian BBC News Announcer Moira Stewart At The Mary Prince Plaque Dedication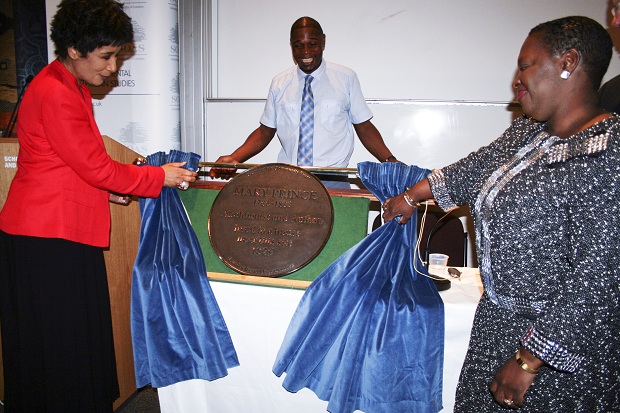 At the time of the unveiling, British Labour MP Diane Abbott said that as a black woman in those times Mary Prince took a tremendous gamble in committing her story to paper.
"She put herself at risk by telling her story and it's very important that we remember the slaves who took part in the struggle to abolish the slave trade," said Ms Abbott, who attended the dedication ceremony.
ADHT Events planned for the upcoming commemorative events planned for the week of March 25-31 include:
Sunday March 25
Commemorative Service at Cobbs Hill Methodist – 4.00pm
Free admission today only for residents to National Museum of Bermuda

 Monday  March 26 – Saturday, March 31
Bermuda Archives
Display at Bermuda Archives Slavery Exhibit – featuring pre-Emancipation period and displays selected narratives written in the early 1830's by three local women.

Bermuda National Library
Display of books on slavery in Bermuda and throughout the world including "The History of Mary Prince", the autobiography of a Bermudian slave, which is a "first-hand description of the brutalities of enslavement" and the first account of the life of a black woman to be published in the United Kingdom.

 National Museum of Bermuda
The NMB's Commissioner's House is part of the African Diaspora Heritage Trail featuring the exhibition "The Slave Trade & Slavery in Bermuda". Other exhibits in the House that relate to slavery and its legacy are the incredible mural, The Hall of History, by Graham Foster; Bermuda & the West Indies; and the Defense Heritage exhibit.

Thursday, March 29
Youth News Supplement in the daily newspaper featuring the African Diaspora Heritage Trail Bermuda Foundation,

Friday,  March 30
Global Video conference for students  – live from the United Nations in New York — hosted by the Bermuda College and taking place at ACE Bermuda

Walking in the Footsteps of our Past – Under the expert guidance of  historian Lance Furbert, the public is invited to discover by candle light, the footpaths of the slaves who once lived and worked in St. George. The trail of our people will take us through the alleyways and pathways surrounding the town of St. George; beginning at The Square and ending at the Bermudian Heritage Museum.(NEW)

Saturday,  March 31
Film screening with panel discussion: "My Slave Sister Myself and :Lest We Forget."
Read More About