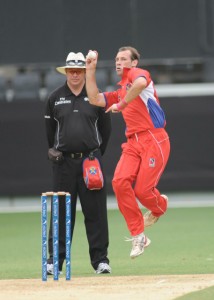 Bermuda Cricket Board [BCB] President Lloyd Fray announced that David Hemp will be stepping down from his position as captain of Bermuda with immediate effect. Mr Hemp has indicated his willingness to continue to represent Bermuda as a player and assist in the mentoring of the future captains. The BCB Executive has recently approved a Captaincy Criteria document that will be used to assess and select future captains.
Lloyd Fray said: "This decision was made after extensive reviews and discussion involving the National Coach, the CEO and David himself. The high performance program of the BCB is a vital part of the BCB's activities and is always in the process of continual review and performance improvement. The BCB is well aware of the importance of succession planning and it was unanimously agreed that the timing was right for David to allow the next generation of leaders to have an opportunity to captain the national side."
"David has been an outstanding leader and role model for the Bermuda senior and junior cricketers and he leaves big shoes to fill. His technical awareness and game-sense are second to none after being finely honed after nearly 2 decades of professional cricket in the English County system. David is the ultimate professional and his approach to the game, and the passion and commitment that he continues to display, is a perfect example for our young men."
"We are very fortunate that David has welcomed the timing of this change and embraces the importance of succession planning. He has admirably displayed complete selflessness in his discussions with us about the team's future. David is fully committed, as the BCB is, to regaining a place in the top tier of international cricket and understands the importance to the country of the next 18 months of both 50 over and T20 cricket."
In 2013, the Bermuda national team will be competing in global qualifying events for places in both the ICC Cricket World Cup in Australia and New Zealand in 2015 and the ICC World T20 in Bangladesh, 2014.
David Hemp noted: "It has been a privilege and an honour for me to have had the opportunity to captain the Bermuda national team and has without doubt been one of the highlights of my playing career. I also would on a personal level like to say a special thank you to all the coaches and back room staff during my time in this role. All have demonstrated professionalism and a complete desire to move cricket forward at the National Squad Level.
"As I have done from the outset, I am fully committed to providing Bermuda cricket support in whatever fashion particularly now as we have multiple global opportunities in tournaments in our immediate future. I will continue to be fully supportive of the BCB and its members, both of its development and its high performance program. If I have a chance to assist in a mentoring role any player will receive my full assistance. I still have great passion to play for Bermuda and be part of a team, which currently has many young players, who can aspire to a return to the top level of Associate cricket in the near future."
Read More About