[Updated with video] The New York to Bermuda record was broken yet again, with an Italian team roaring in at 10am this morning [Sept 28], in a time of approximately 17 hours.
They left New York at approximately 5pm Bermuda time yesterday to make 780 mile open ocean transit, and ended up smashing the previous record by over 4 hours.
The boat was by noted Italian yacht designer and builder Fabio Buzzi, and is 39.9′ long, weighs 9 tons and is powered by 2 FPT 650HP engines. It is a military boat, and used by the Italian Army special forces.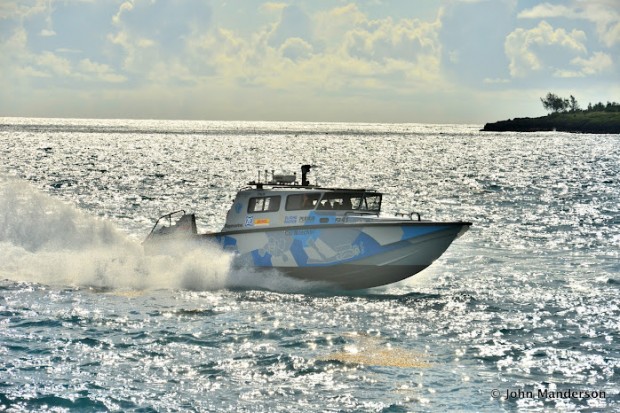 Created by Boating Magazine in 1994, the Bermuda Challenge is an offshore powerboat endurance race which begins at the Statue of Liberty in New York City and finishes at the sea buoy in St. Georges, Bermuda.
The first run was in 1996 by Larry Graf in his Glacier Bay 260 Canyon Runner with twin Honda 90s, and was completed in 37 hours. In 1997, a World Class 266 SF catamaran powered by Mercury Optimax 150s cut the time to 29 hours, 30 minutes.
In 2002 the record was broken again by Bermuda's Dr Neil Burnie aboard a Renaissance Marine Prowler 302. Last month the record was broken yet again, with Chris Fertig finishing in 21 hours and 39 minutes.
Update: The boat's name is Col Moschin, and the crew were Fabio Buzzi, Maurizio Bulleri, Antonio Binda, Emilio Riganti and Roberto Rizzo. They were welcomed in by St George's Deputy Mayor Garth Rothwell.
When asked what prompted them to make the trip, the Captain joked that they wanted to "find the most expensive and complicated way to see your beautiful island."
They also noted that the "Someone was doing this two months ago and they did 30 knots with American technology, and we have done 40 with Italian technology."
Click to enlarge photos:
Read More About