On the heels of a successful inaugural block party, the WuzUp? Bermuda team is set to host an all girls sleepover. This event marks the second of the newly created Touch the World Foundation (TLWF) which was launched at the recent WuzUp? Block Party held at The First Church of God, North Shore.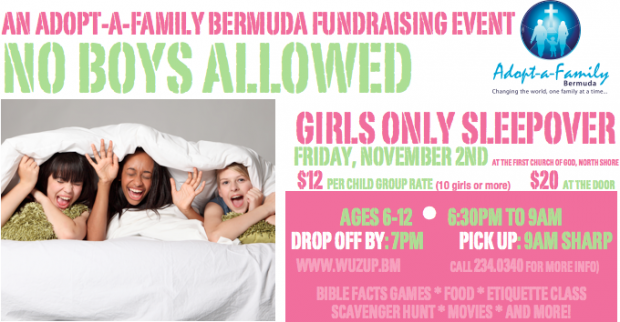 TLWF was established to meet the need of the people on a greater scale, as noted by its president, Mr. Jeremy O. Johnson. Its 'baby', Adopt-A-Family Bermuda (AAFB), is one of its initiatives that will serve the local community. AAFB is a multi-generational approach to combat the poverty of Bermuda by empowering its citizens through subsidy, learning, and positive relationships so they are thoroughly furnished with the means to support their own and to give back when the opportunity arises.
A spokesperson said: "Children/families are sleeping in cars and tents right here in Bermuda. We may not want to acknowledge it but it's a new reality for our country. AAFB's upcoming Girls Only Sleepover is designed to assist by encouraging positive peer pressure, increasing awareness, meeting the need, and encouraging higher self esteem, particularly among girls aged six to twelve from single parent or guardianship households
"Sample activities at this event will include a scavenger hunt, arts and crafts, games, and more! AAFB also intends to meet the basic needs of these girls by offering a nutritional meal, etiquette class, free hair braiding, and Bible-based nuggets of wisdom for daily living.
"This event will start at 6:30pm on Friday, November 2, 2012 and will run until 9:00am on Saturday, November 3, 2012. The cost is only $20 per child. For a group of ten girls or more, the cost is only $12 per child. We encourage persons to register/sponsor girls in such predicaments. To register or for more information, please visit www.touchtheworld.bm or call 234-0340."
Read More About
Category: All